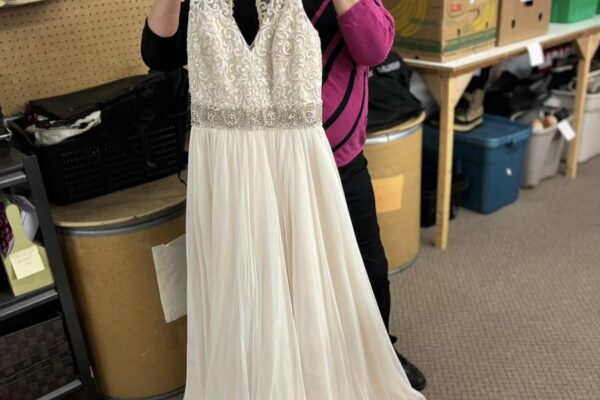 Tanya Walsh, of Hamilton, Ontario, spent sleepless nights crying for days over the past month. Her widowed father had accidentally donated her wedding dress, which had been stored in the closest of her recently deceased mother.   
"All wedding dresses are special," Tanya told CTV News. "But most importantly, it was a dress my mother bought right before she passed away."
The outlet explained that "at the time of her wedding, in the summer of 2018, Walsh said her mother was in palliative care. Their ceremony only had 14 guests, she said."
Tanya continued: "At first, I didn't want a wedding dress but my mom and dad got married at city hall and never had a proper wedding dress," Walsh said. "So I got the dress in hopes that it could just serve as a memory when she's gone."
Her mother passed away during the fall of that year, and she said she had stored the wedding dress, along with the dress that her mother wore to both her and her brother's wedding, in the closet "for safekeeping." 
After searching the nearby Salvation Army and other second-hand stores and coming up empty, she put a message on social media asking for help.
Her long shot paid off. CTV happily explained that "Walsh was notified Saturday afternoon that "a lovely volunteer" had located the gown – at one of the stores she had originally suspected it had been donated to.
'The dress [was found by] Sheila at St. Vincent de Paul store,' Walsh told CTV News Toronto Saturday. 'It was in storage in the basement, tucked away,' she added.
Walsh said that, when Sheila saw the plea, she said she made it "her mission" to find the dress during her Saturday shift.
'And she came through,' Walsh said. 'Thank you to everyone who helped share the story and circulate. [I'm] beyond grateful.'"
[Read More: A Pilot Looked Down And Suddenly Realized His Next Move Was A Life Or Death Matter]