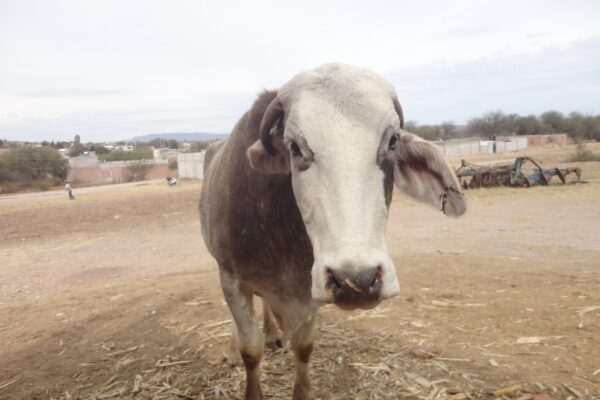 A cow in Brooklyn, New York, made the run of its life earlier in the week after escaping a slaughterhouse. The bolting bovine even managed to briefly evade a local team of cattle wranglers who joined up to try and slow the frightened milker down. 
The Gothamist writes that the 'feisty' calf was eventually captured by lasso-wielding workers near Avenue M and 95th Street, according to Vinny Fontana, the owner of nearby Original Pizza.
'It was just running down Rockaway Parkway all the while being chased by people from the slaughterhouse who were unable to nail her down," Fontana told Gothamist. "When she came into the business district, everyone pitched in together to herd this cow.'
Footage taken by workers confirms the group effort. As an employee from the pizza place waves his apron at the escaped animal, matador-style, a group of pedestrians give chase as well. At one point, a man in boots – presumably from the slaughterhouse – appears with a lasso.
Everybody just came out of the store and tried to herd it into a corner," said Fontana, told local news. "But she was feisty, she put up a fight."
Video taken by bystanders showed staff from Saba Live Poultry trying to grab the calf. They were eventually joined by neighbors and employees from the nearby pizza shop.
Footage of the cow that escaped a slaughterhouse in Canarsie this afternoon, courtesy of Original Pizza pic.twitter.com/cIAINp3Ssh

— Jake Offenhartz (@jangelooff) March 21, 2023
Management at the slaughterhouse on Rockaway Avenue wouldn't go on camera to speak to NBC New York, but an employee said the animal ran about a mile away.
"People start to identify with that one animal. They see the desperation in the animal's face when they are fighting for their lives," Mike Stura, the president and founder of Skylands Animal Sanctuary, which provides care and shelter to a number of cows, told NBC New York. "That animal is fighting for her life and they know it," he continued. "You can feel the fear in the air."
Stura offered to take the cow with him to give it a new home. After being hesitant at first, the slaughterhouse agreed that her effort to escape deserved a happier ending than on a plate at a steakhouse. 
"Even slaughterhouse workers over the years that have given me animals, much bigger animals than this one, and have taken a much bigger financial hit and have said to me that they're happy the animal came with me," Stura told the local ABC affiliate. "They are happy to see one live. You know, even the people in the slaughterhouses."
"I think she deserves it. I think she earned it," Fontana said.
[Read More: New Monster Spider Species Found]