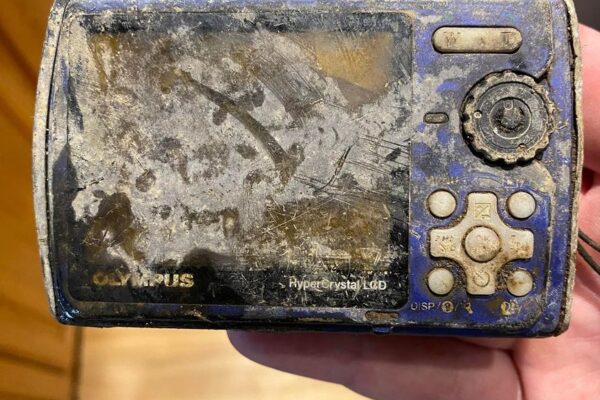 Thirteen years ago, Coral Amayi was having the time of her life. She'd just gone to one of her friend's wedding and then went on a river vacation in Colorado. She spent much of the trip taking photos with her digital camera, taking it everywhere. 
That's when disaster struck. 
While she was tubing on the river she got thrown off the tube and her camera went flying, sinking to the bottom of the river. 
"When I got to shore, the small cord that attached the camera to the lanyard and floatation device had broken," she told TODAY.com. "I walked back to my boyfriend's house and was uncontrollably crying."
The photos from her friend's 2010 wedding and bridal shower were gone. 
Or so she thought. Earlier last month, Coral got a Facebook notification and she couldn't believe what she saw. 
The Washington Post said that someone had found her lost camera and posted them online.   
She told the newspaper, "I immediately did a happy dance. After all these years? I couldn't believe it."
WaPo explained, "Her camera had been found March 14 by Spencer Greiner of Durango while he was on a fishing trip about a mile downstream from where Amayi had fallen off her tube in the Animas River.
Greiner, 34, said he was cleaning up some trash along the riverbank when he saw the weather-beaten camera poking out of the mud. 'With the snow melt going on, there was a lot of trash coming through in the water,' he said. 'I thought I'd clean it up a bit.'"
Greiner threw what he thought was rubbish into his backpack, but then he said curiosity set in when he got home. He used a screwdriver to open the broken camera's case, took out the memory card, and plugged it into his computer. 
"The camera was such a wreck and looked so far beyond reality, I didn't think I'd be able to see anything," he continued, but after a second, he received a shock: 179 photos came up on his screen from the summer of 2010.
"I was so surprised that my computer was able to read the card," Greiner told the newspaper. "Some of the photos were a little blurry, but there were some good ones on there. I knew they must have been important to someone."
That's when we went to a Facebook group and asked: "Did you get married on June 12th 2010 in the Durango area? 
'Did you have an ugly brown stretch station wagon at your bachelorette party? Do you recognize any of these people? If so please contact me."
Within an hour he got a reply: "that's me and my wife!," The Daily Mail wrote.
Coral said she expects to get all of the photos from Greiner soon.
[Read More: Fish Found At Bottom Of The Ocean Is As Weird As You'd Think]