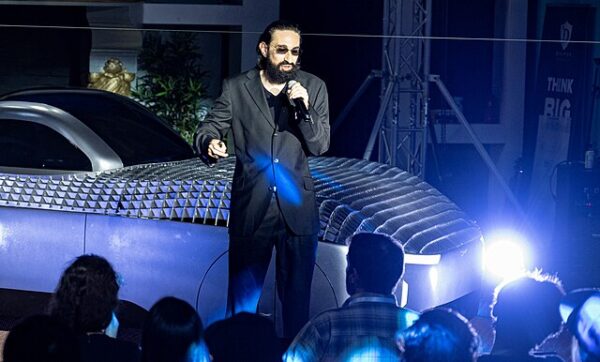 Tired of sitting in traffic? If a new car company has its way, you'll soon be able to fly over the jam and get to your destination in no time. At this year's International Auto Show in Detroit, visitors saw the reveal of the first FAA-approved flying car. 
Who's ready to travel like George Jetson?
California company Alef Aeronautics' UFO-like Model A vehicle made its real-world debut after receiving legal approval in June to fly from the federal government. Now, the firm is causing excitement in the motor industry thanks to its show-stopping appearance at one of the most influential events in the American car industry.

Alef Aeronautics claims the Model A would be able to drive on roads — but take flight to avoid traffic jams. The award of a limited FAA Special Airworthiness Certification for the electric vehicle allows them to move towards test flights and production.

The Model A would carry one or two occupants, with the driver and cabin stabilized by a unique gimbaled rotating cabin design. The 17-foot-long vehicle would have a range of 200 miles on the ground and achieve a 110-mile flight distance. It is designed to fit in any parking space or garage.
Those hoping to see the car lift off were left a little disappointed. "Though the concept in Detroit showcased the Model A's exterior design, it did not drive, fly, or open to show the passenger cabin. "It's still not the final consumer version," Alef founder and CEO Jim Dukhovny told Robb Report during an interview after the press event. 'But at this point, it's pretty close.'
The Model A's blue underbody encases its four tires, each with an individual motor for the flying-car's drive mode. A silver, lightweight carbon-fiber mesh overlays its eight propellers, each with an independent, software-controlled electric propulsion system to spin at different speeds for redundancy and control.
"You need airflow so obviously we cannot have a solid top, but we can't have it completely open for safety reasons," says Dukhovny, whose father was famous musician and poet Leonid Dukhovny.
Aimed at the general public, Dukhovny says it's easy to learn. 'I can teach you how to fly and drive this in about 15 minutes or less,' he says. 'If you can tell the difference between the right, left, up, down, front and back, you can do this. It's pretty much the only controls it has.'"
Earlier in the year the company received official permission to test its vehicle from the FAA. CBS News reported that "Alef's engineering team envisions its first model will speed through the sky at 200 miles per hour, have a flying range of 110 miles per charge and a road range of 200 miles.
'You're going to have a shorter, easier and more environmentally friendly commute,' Dukhovny said.
The Alef prototype is made of carbon fiber and Kevlar. Electric motors powered by lithium batteries spin 8 propellers.
Kisly, the director of engineering, believes technology has advanced exponentially over the last decade, giving his team even more confidence the parts are falling into place."
If Alef gets its way, traffic jams may soon be a thing of the past.