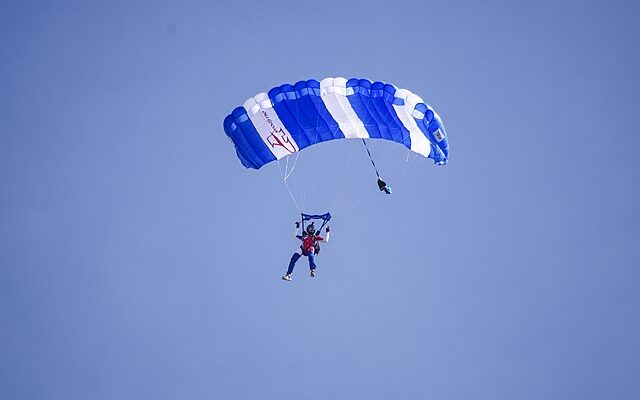 When you hear about elderly people falling, it's usually the worst-case scenario. You worry that they broke something and hope they didn't have to take a trip to the hospital. 
For 104 Dorothy Hoffner out of Ottawa, Illinois, she fell…and she just kept falling, and falling, and falling. Once she landed, she became the oldest person ato ever successfully skydive.

"Age is just a number," Dorothy told a cheering crowd moments after touching the ground at the Skydive Chicago Airport in Ottawa, according The Chicago Tribune.

As the centenarian prepped to board the white Skyvan plane, she slowly pushed her red walker out into the skydiving resort's hangar. She took off her light blue cardigan and lifted her black loafers a few inches off the ground one at a time to work her way into a harness. She declined a jumpsuit but accepted an altimeter.

She left the walker just short of the plane, where two expert instructors helped her up the steps into the hold.

"Let's go, let's go, Geronimo!" she said, finally seated.
She took a leap out of a small plane and into the record books. 
The Associated Press said that Dorothy "looked calm and confident when the plane was aloft and its aft door opened to reveal tan crop fields far below shortly before she shuffled toward the edge and leaped into the air. She tumbled out of the plane, head first, completing a perfect forward roll in the sky, before flying stable in freefall with her belly facing the ground.
The dive lasted seven minutes, including her parachute's slow descent to the ground. Coming in to land, the wind pushed Hoffner's white hair back, she clung to the harness over her narrow shoulders, picked up her legs and plopped softly onto the grassy landing area.
Friends rushed in to share congratulations, while someone brought over Hoffner's red walker. She rose quickly and she was asked how it felt to be back on the ground.
'Wonderful,' Hoffner said. 'But it was wonderful up there. The whole thing was delightful, wonderful, couldn't have been better.'"
Skydive Chicago, who assisted Dorothy on her record jump, announced it is working to have Guinness World Records certify the jump.
In December, Dorothy will turn 105, but she said she has no intention of slowing down. Next up is taking a trip in a hot air balloon. 
"I've never been in one of those," she said.