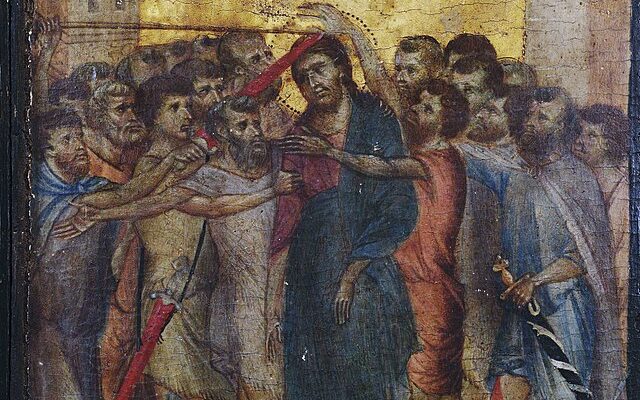 An elderly woman in France had quite a shock when she learned that the painting she had hanging on the wall in her kitchen was not what she thought it was. A painting depicting Jesus before the crucifixion, which through she thought was merely a Greek religious icon, turned out to be a "forgotten masterpiece." 
Titled "The Mocking of Christ," the piece of art was made by the Italian artist Cimabue during the 13th century. 
CNN reports:
The unsuspecting owner of the piece did not know where the 10-inch by 8-inch painting had come from, said Jerome Montcouquil of art specialists Cabinet Turquin, which was asked to carry out tests on the painting following its discovery, at the time.
The painting, which dates from 1280, went on to fetch almost 24.2 million euros ($26.8 million) at auction in October 2019, more than four times the pre-sale estimate.
Cimabue, born in Florence around 1240, is the pseudonym of the artist Cenni di Pepo, according to Smithsonian Magazine. "Many art historians think he was the teacher of the celebrated artist Giotto. Only about 15 known works by Cimabue exist today, making Christ Mocked an incredibly rare find. The painting is part of a diptych, which included eight scenes depicting the crucifixion and passion of Christ. Only two other works from the diptych are currently accounted for.
Eric Turquin, a Paris-based art specialist, was called in to help authenticate the 13th-century painting. "We could have no doubts on the [Cimabue] attribution since this picture is clearly part of the same [altarpiece]," Turquin told Artnet's Naomi Rea in 2019. According to Turquin, the painting had the same dimensions, style and hues as the two other surviving paintings that are part of the diptych.
When Christ Mocked went to auction in 2019, the London-based dealer Fabrizio Moretti acquired it…'I bought it on behalf of two collectors," Moretti told ​​the New York Times' Scott Reyburn following the auction. "It's one of the most important old master discoveries in the last 15 years. Cimabue is the beginning of everything. He started modern art. When I held the picture in my hands, I almost cried.'"
After the auction, however, the French government banned the export of the painting, labeling it a national treasure and giving The Louvre 30 months to raise more funds to purchase the painting.
Earlier in the week, the famous museum announced that it had succeeded and "Christ Mocked" is heading to a prominent spot on the Louvre's walls where it will join its siblings. 
The Guardian reports, "The Louvre already has a much larger Cimabue painting on display, the Maestà. Also completed around 1280, the work measures almost 4.3 metres high by more than 2.7 metres wide and is undergoing restoration. The museum says both Cimabues will be put on display in the first half of 2025.
Neither the culture ministry nor the Louvre has given details of how much it paid for Christ Mocked or how the money was raised to buy it except that it involved an 'exceptional mobilisation' to encourage donations from patrons who were offered tax exemptions."