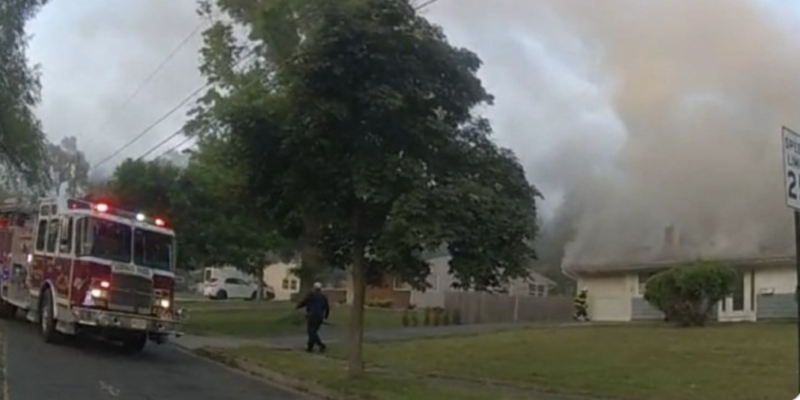 Like many people, Santo Livo wakes up early and goes for a morning job. Recently while taking his early-morning jaunt, the 85-year-old noticed something frightening happening in a nearby garage where a father and his four children were sleeping. 
Santo knew he needed to make a decision.
The Daily Caller explained, "At approximately 5:30 a.m. May 31, Santo Livio noticed a "puff of smoke" emanating from the corner of his neighbor's garage. Stepping outside his own home to investigate the matter further, Livio consulted with a woman who regularly walks the neighborhood and was passing by.

"I yell to her, I said, 'Is that a fire, you think, that smoke is?' And she says yes," Livio told ABC News.

The two neighbors then sprang into action. While the woman went to the front door of the home, Livio started banging on windows before returning to his home to call 911, the outlet stated. By the time the police and fire officials arrived, the smoke had become a full-on blaze, he told ABC 7 News.

The family, which had been asleep, eventually woke up to the efforts of Livio and the passing woman, who alerted them to the presence of the fire. The father and his four children escaped the blaze with no injuries. The mother, a nurse, was working at the time of the blaze.

The terrifying fire was caught on video. 
BREAKING – Neighbor saves sleeping family, with 4 kids, from early morning house fire. More details to follow. pic.twitter.com/eQRyjCi93M

— So Brunswick PD (@SoBrunswickPD) May 31, 2023
"I credit Mr. Livio, along with the unidentified woman, and their quick thinking and heroic actions, with saving the family," Chief Raymond J. Hayducka told a local news outlet.
Officials stated that they believe the fire began in the garage of the home. The blaze took 50 firefighters from three township departments about 20 minutes to extinguish.