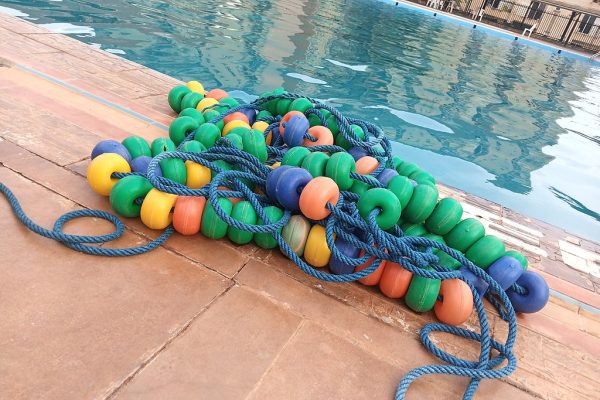 Lori Keeney has a real-life guardian angel: her son Gavin. Their home security camera recorded the moment when the ten-year-old boy leaped into their backyard pool to save his mother from drowning while she suffered a seizure.
The Daily Mail described how Gavin Keeney saved his mother, Lori, on August 5 in Enos, Oklahoma.
"He makes his way to his drowning mom and lifts her chin above the water, and reportedly did not call for help at all. 
Luckily, the Keeney's dogs alarmed Lori's father, Stephen Lowe, who lives next door, and he rushed to help his daughter.
Lori spoke to Storyful and said 'I was told later that he never asked for help. My dad, who lives next door, heard the dogs barking and he ran out and jumped in as Gavin held me on the ladder and kept my head above water.'" 
Lori Keeney told Good Morning America that "the two were having a "wonderful morning" when they had decided to jump into the pool for a swim."
"[Gavin] had just gotten out of the pool and I just went into a seizure," Keeney said. "It scared me more than I've ever been scared."
Keeney is epileptic and prone to seizures.
Gavin, who was on the porch, said he heard splashing and then looked and saw his mother "sinking in the pool."
The boy said he was a little scared, but he knew what he had to do. He jumped into the pool and got his mother to the ladder minutes before his grandpa pulled them both out. 
 It marked the second time he was her hero after attempting a Heimlich maneuver and calling 911 when his mother choked on food in 2021.
Lori told Fox News, "About 1.5 years ago, I had just had an extensive cervical spinal fusion and wasn't able to swallow well. I choked on some food, and he even tried the Heimlich maneuver," Lori said. "The last thing I really remember is his little arms reach around me and try with all his might, and then he said 'I'm not strong enough, mommy. He then called 911."
"Poor little dude has had to deal with so much with my health, and he always handles it so well," Lori added.
The Kingston Police Department later presented Gavin with an award for his bravery. They wrote on their Facebook page that "Due to the quick actions of this young man his mother didn't swallow any water and is still alive to this day. Thank you Gavin you are a true hero and a positive light for this community."