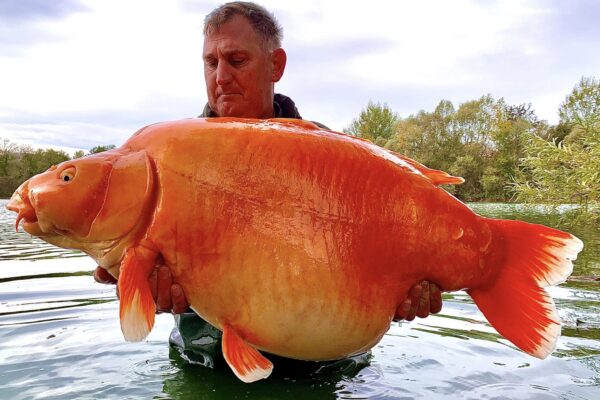 When you think of catching a goldfish, you're usually thinking about going to the pet store and maybe using one of those small nets. They are typically a few inches big and people all over the world keep them as pets in a small bowl without too much trouble, so long as they remember to feed them.
In France, they might need to get a bigger bowl.
Fisherman Andy Hackett, according to The Guardian, "managed to catch a much bigger version of the fairground prize favourite when he landed one of the world's largest weighing more than 30kg (67 pounds, or five stone).
The elusive fish, known as the Carrot after its orange colour, was landed at Bluewater Lakes in Champagne, France. It was put into the lake 20 years ago, and has proved to be a slippery customer ever since.
Hackett, from Kidderminster in Worcestershire, spent 25 minutes bringing the fish in.
It is a hybrid species of a leather carp and koi, and is thought to be the second largest of its type ever caught."
After Andy "landed the behemoth, aptly nicknamed The Carrot, while fishing at Bluewater Lakes in Champagne, France, one of the world's premier carp fisheries, The New York Post wrote.
"I always knew The Carrot was in there but never thought I would catch it," Hackett, a Worcestershire-based company director, said of the monster.
Andy released the fish after snapping some photos of his catch. 

The Daily Mail said, "It was 30lbs heavier than what was considered to be the world's biggest goldfish, caught by Jason Fugate in Minnesota, US, in 2019.
And it was more than double the size of a 30lb bright orange koi carp caught by Italian Raphael Biagini in the south of France in 2010."
USA Today noted, "Bluewater Lakes, located in the Champagne region of France, is billed as the country's premier carp fishery. It's so popular that guests have to book well in advance.
The Bluewater fishery boasts a substantial population of carp weighing 50-plus pounds. Since Hackett's catch, anglers have caught carp weighing 92 pounds (named Miggsys) and 85.5 pounds (Peaches)."
[Read More: A Man's Horse Returns Home After EIGHT YEARS Spent With Wild Mustangs]