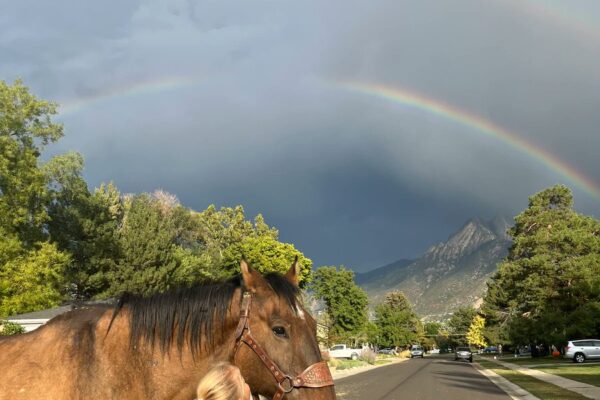 Sometimes you need to sew your wild oats, especially if you're a horse. "Eight years ago, Shane Adams jolted from the tent he was camping in — underwear-clad and scurrying to get dressed — when he heard a herd of wild mustangs zoom past. His heart broke when he saw his beloved horse had joined them, running off into the Utah desert," according to The Washington Post.
"Mongo, a gentle stallion who loved to munch on Sour Patch Kids candy, had been missing ever since, but Adams never let go of his hope that the horse would eventually find its way home. Last week, it finally happened when Mongo was returned by federal officers with the Bureau of Land Management."
"He was his calm, mellow and normal self — like he had never left at all," Adams told The Washington Post. "But I was overjoyed. I couldn't believe it. It was like a dream come true."
"In less than five minutes, Mongo had joined the approximately 71,000 wild mustangs that roam the West, according to Bureau of Land Management figures."
Local news reported that the Bureau of Land Management reached out to Adams on Facebook with a possible lead on Mongo. Adams loaded his horse trailer and drove almost three hours to bring Mongo home, and it was like the horse had never left.
"We're getting back to where we were before because he was always my escape route," Adams said.
Adams has been feeding Mongo and is trying to get him to gain weight because the horse lost over 400 pounds on his adventures and is more than 200 pounds away from his previous weight." 
It's been tough since sledding for Shane Adams since Mongo left to party with some wild mustangs. He "experienced a number of big life changes over the course of eight years — the same period of time that his beloved horse, Mongo, had been missing from home.
Shane "went through a divorce, lost his home and suffered a major brain injury due to a life-threatening car crash." After hearing the news about Mongo's return, he said he thought, "There is no way. You have got to be kidding me," Adams told Fox News Digital of his reaction to learning the news about Mongo."
Hopefully, the return of one of his best friends will help Shane get back on his feet. "Adams, 40, grew up riding and training horses his entire life, but he had never experienced as strong a bond as he had with Mongo," he said.
It's too bad horses can't talk. I bet Mongo would have some great stories. 
[Read More: Watch As A Mother Comes Out Of Surgery And Meets Her Newborn]