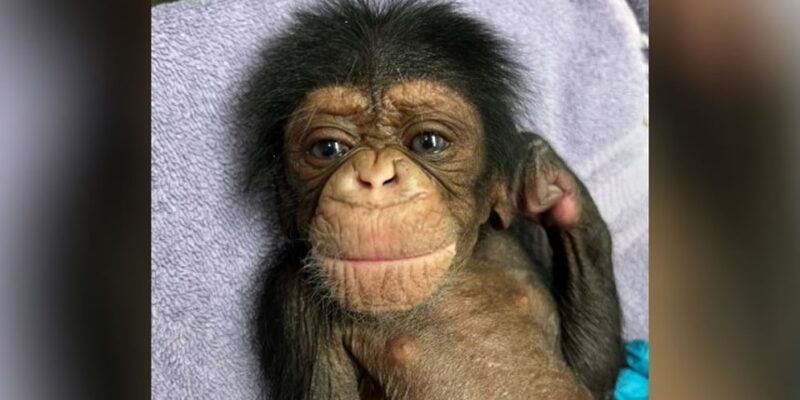 Is there anything stronger than a mother's love of their child? In Wichita, Kansas, the Sedgwick County Zoo greeted the newest chimpanzee to their family.  
Local media reported that a chimpanzee named Mahale gave birth via c-section. "The zoo says that after laboring through the morning, the animal care team noticed changes in her progress, and the decision was made to intervene surgically.
They say that Mahale is recovering very well behind the scenes. The baby received treatment and bottle feedings from the animal care team overnight due to low oxygen levels.
"As of this morning, he is doing very well and the team feels that he'll be ready to be reunited with mom very soon," the zoo said in a press release. "Mom and baby will remain behind the scenes until it's clear that they are both healthy and bonded." 
Watch this mother react the moment she sees her baby move

This newborn baby boy was born at Sedgwick County Zoo via c section on November 15 and was put on oxygen,

here is mum and baby reunited pic.twitter.com/DCSibSqjH0

— Science girl (@gunsnrosesgirl3) November 18, 2022
This is the third offspring of Mahale, 28, and an important birth for the chimpanzee population. Chimpanzees are listed as endangered and wild populations are decreasing due to habitat loss and poaching for bushmeat."
The little guy, named Kucheza, arrived after some trouble, but cameras caught when Mahale got to hold her baby for the first time. 
"In the heart-melting video, the mother, whose name is Mahale, excitedly embraced her son after almost two days of separation because of labor complications," according to the New York Post.
"Good job, Mahale!" one of the zoo's employees said in the video posted on social media.
The baby chimp was given the name Kucheza, which means "play" in Swahili, according to the Kansas-based zoo.
The decision to perform a C-section was made after the animal care team noticed that Mahale was having difficulties performing labor. Kucheza was reunited with his mother after the zoo's medical team gave him the all-clear."
Kucheza received needed treatment and bottle feedings from the animal care team because he had low oxygen levels before being reunited with his mom, but the zoo says that both mother and baby are doing great. 
[Read More: Researchers Claim They Have Cured Blindness With Bionic Eye]