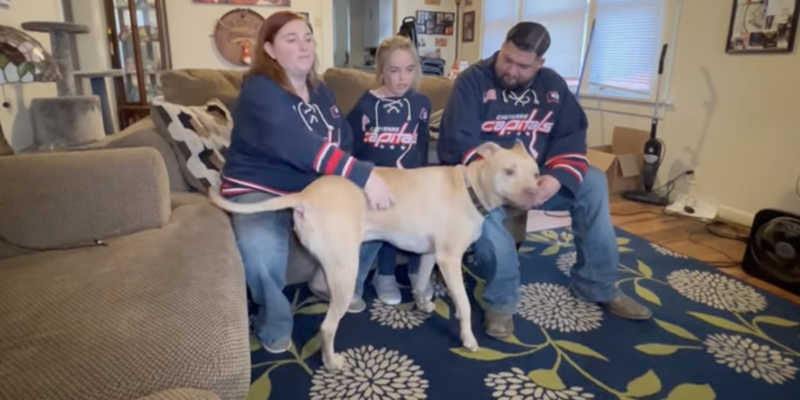 It looks like Homeward Bound can happen in real life. With a little bit of help from shelter volunteers, some great technology, and the feeling they should never give up, Alexis Leuning and her family have been reunited with their lost dog, Bolt, after two years and a thousand-mile journey.  
Alexis and her family lived in Galveston, Texas, when Hurricane Laura hit it. As they tried to prepare for the storm, Bolt got out of the yard and despite hours of searching, they had to go back inside right before the hurricane hit.
Believing that they'd never see their beloved pup again, and her husband facing a terrible illness, the Leuning family moved back to Alexis's hometown of Cheyenne, Wyoming. Last month, however, they got incredible news. Thanks to dedicated shelter employees and a tiny microchip, Bolt has been reunited with his family after FIVE YEARS.
The Cowboy State Daily shared the wonderful news that Bolt had been living with an older woman who rescued him from the hurricane.

"Meghan Bittel, foster coordinator for Fort Worth Animal Care and Control, said she doesn't believe the woman had malicious intent when she took the stray in rather than call a shelter.

'Everybody has a bad impression of animal welfare, animal control shelters,' said Bittel. 'So, you have this really sweet, amazing, great personality, scared dog show up on your front porch, they just didn't want to take him to the shelter – and they probably had no clue about microchipping.'

The timing of the phone call, Leuning said, was almost spooky. When the couple moved to Wyoming, Alexis and Bobby, now married, were facing a crisis. Bobby's liver failure was advancing, and in October 2021 he died.

Bobby had always loved Bolt and considered him his dog.

'It was just like, 'Oh my gosh, I can't believe he's alive,' she said. 'I had to catch my breath for a second, because that day changed everything for me.'
Local news in Texas wrote, "The shelter teamed up with Flying Shepherd Ranch, a nonprofit in Parker, Colorado, that flies rescue dogs in Texas and surrounding states to fosters and adopters in mountain states and beyond.
A week later, Bolt was on a plane for the 850-mile trip to his new home in Cheyenne.
Officials with the shelter said Bolt was met by Alexis, "two human siblings and even a new, furry sibling" and that the 'dog-loving family was overcome with excitement and thankful that they were reunited, all because of a simple microchip.'"
Welcome home, Bolt!
[Whoa: Evidence of Ancient Human Civilizations Are Showing Up Underwater All Over The World]