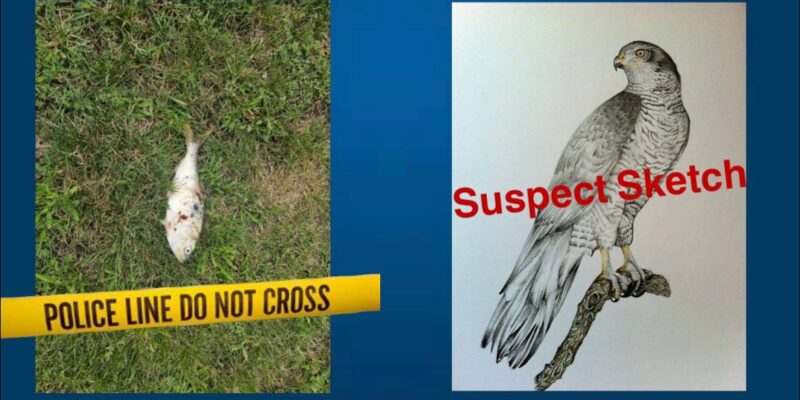 The New Jersey town of Sayreville was recently shelled by an unlikely suspect and with an unlikely bomb, causing a huge section of residents to lose power for several hours. Jersey Central Power and Light said earlier in the month that a bird of prey dropped a fish on a transformer, causing it to explode.
Sayreville is located about 30 miles south of New York City, on the Raritan Bay and Raritan River. 
"The hypothesis is that a bird dropped it," Sayreville Police Department Lt. James Novak said. "It just landed perfectly and destroyed the transformer."
The bird suspect is allegedly an osprey, also known as a "sea hawk."
A representative for the power company told Fox News Digital on Wednesday that the outage affected "2,100 Sayreville customers for less than 2 hours" and confirmed it "was caused by a fish dropped onto a transformer."
Police posted a lighthearted "Wanted" poster of the alleged culprit. 
Jersey Central Power & Light also got in on the fun of the Facebook post, telling Fox News Digital that their "condolences are with Gilligan's family."
"We also send our thoughts to the osprey – if you've ever dropped your ice cream cone at the fair, you know the feeling. Though we do appreciate the osprey's desire to really connect with the community – the Sayreville H.S. sports teams are the Bombers," a spokesman for the company, Chris Hoenig, added. 
"In all seriousness, we appreciate our customers' patience during the restoration efforts on Saturday. This is an area with a large osprey presence, and we are very active in protecting the osprey population, following strict protocols in relocating osprey nests that are located on our equipment or too close to power lines and putting up deterrents to prevent future nest building in dangerous locations. This also serves as a good reminder to keep a safe distance from all electrical equipment. And not to use power lines for your neighborhood fish fry," Hoenig said. 
Wildlife also poses a significant threat to power grids, experts told ABC News in 2022.
"Animals also play a role in the reliability of the overall power system," Drew McGuire, the director of substations, distribution and environment research at the Electric Power Research Institute, a non-profit energy research and development organization, told ABC News. "We typically see this in distribution in the lower voltages that you would typically see in neighborhoods and things like that in in substations."
"One of the biggest ways animals disrupt the flow of electricity to households is by breaking into electrical substations, Luis Puigcerver, a senior product manager for wildlife and asset protection at TE Connectivity, a technology company that designs and manufactures connectors and sensors….Once critters such as squirrels, rats, raccoons and even snakes get into the substation, all they have to do is touch two pieces of bare metal to conduct a surge, Puigcerver said. Just the slightest touch could cause a flashover, which is involves electricity running through the animal from one electrical bare connection to another or to a grounded position," he continued.
"They're sitting on a piece of metal that that's either grounded or electrified, and then they touch their pop of their nose," Puigcerver said. "And sometimes they don't even have to touch and get very close to it and it'll bridge the gap — literally cause that electricity to jump from the metal through the body of the creature and then short itself out."
One study has said that animals cause thousands of power outages a year across the country.