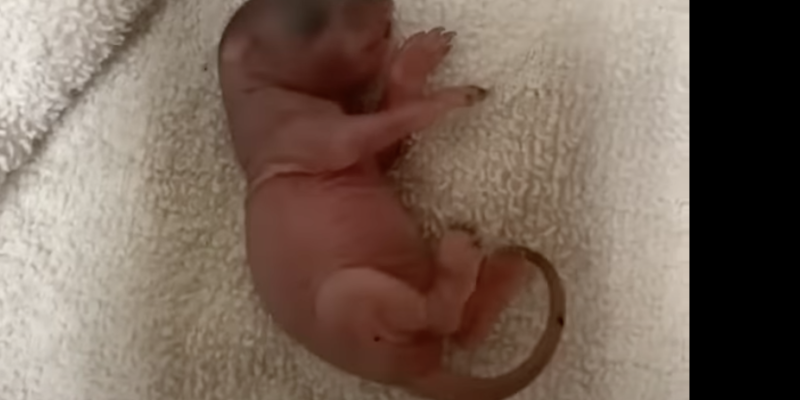 One day, Ron Milburn was walking down his driveway when he came across a small, bald baby animal "the size of his thumb." That's when he decided to Google ways to identify what he had found and figure out how to help the little guy. 
What he discovered surprised him. "After figuring out it was a newborn squirrel that had probably fallen out of its nest, he put it back outside in a shallow box and waited to see if the mom would return for it. She did come to check it out, but then left it again. (Later, Milburn would find out that the baby squirrel had a mouth deformity which most likely made it unable to suckle properly.)," Upworthy writes.
"Milburn didn't think the wee one would survive, but he decided to do his best. He took it back inside and began feeding it puppy formula with a syringe every three hours, around the clock. He said it was 'like having a newborn baby in the house.'"
Another outlet said, "To help the squirrel, which he named Bobby, he found some puppy milk formula and gave it to the little guy "with a syringe every three hours around the clock. Newborns do tend to keep you up at night, no matter what species. Around 30 days old, the squirrel opened his eyes and began to crawl on Ron."
Now Bobby (and Ron) run a hilarious Tik Tok channel dedicated to the squirrel's exploits. 
Bobby also has a children's Youtube Channel that has grown in popularity. 
Upworthy noted that "Milburn has also created a children's book called "Bobby and Friends," which includes 10 short stories for children ages 2 to 11 and an accompanying coloring book.
People can't get enough of Bobby the squirrel, and who can blame them? He's the pet squirrel most of us wish we could have—one who has a full outdoor life as he should, but who also likes to come in for some cuddles with his people.
[Read More: Be A Helper: Haristylist Helps Parents Of Sick Kids]