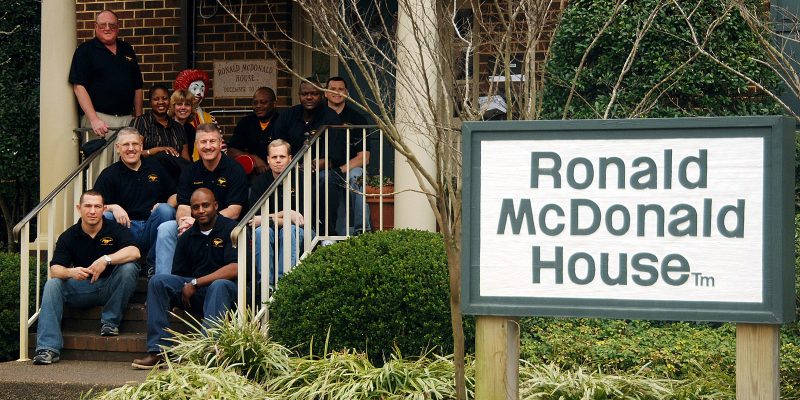 Sarah Pulley knows what it's like for her latest clients. A hairstylist, she runs a salon inside Riley Hospital for Children, helping those parents worried about their children get a brief respite from the anxiety of having a sick child. 
Pulley's daughter, Amelia, was born at just 27 weeks' gestation and needed to stay for 125 days in the neonatal intensive care unit. She told local WHTR, "Her lungs were extremely fragile. She was just one pound four ounces when she was born. When your child, especially an infant, is in the NICU, you lose all sense of yourself."
Today she wants to help parents struggling to stay strong. 
Last year, Pulley became a volunteer at the hospital's Ronald McDonald House Family Room, a program under the global nonprofit Ronald McDonald House Charities, according to Today.

Offering to lead the initiative, Pulley donated a chair from her salon, Three Seventeen Hair Design. She also contacted her distributor, which agreed to provide $150 worth of free hair care products, and she volunteered her hair styling skills.

On Sept. 14, "Beauty Bar" opened on the third floor of Ronald McDonald Family Room Maternity Tower at Riley.

Inside the space, parents can relax in a HydroMassage chair, doze in a nap pod and snack on fruit and granola bars. Pulley also goes out of her way to pamper and style postpartum moms and sleep-deprived dads at no charge.
"Whether it's the next diagnosis, or issue that comes up, just giving you that little bit of strength back. It's huge," Pulley said.
She says if it makes a difference for just one person, it's well worth it. "It's just that one-on-one time with someone, just time to relax, to have that peace in the storm I guess."
The first Ronald McDonald House opened in Philadelphia in 1974 after Jim Murray, general manager of the Philadelphia Eagles, raised funds for one of the daughters of an Eagles player.
There are 368 Ronald McDonald Houses in over 60 countries. They accommodate families who have hospitalized children and are being treated at nearby hospitals and medical facilities. One source states, "Ronald McDonald Houses provide over 7,200 bedrooms to families around the world each night, with an estimated value of $700 million in lieu of hotel costs."
I think we can all be happy for the Sarah Pulleys of the world. 
[Read More: These Marine Biologists Did Something Remarkable]