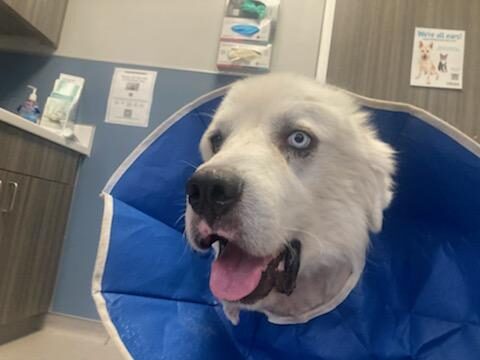 A few coyotes learned what the phrase to "f*** around and find out" means when they ran into a dog that was willing to do anything to protect his sheep herd.
Sheep dogs have one crucial job—defend the flock from wolves or, in the case of an Atlanta area Great Pyrenees, a mean and hungry pack of coyotes. A brave livestock dog named Casper is being praised after successfully fending off a group of ten coyotes. 
A handful of weeks, the pack came onto the land of John Weirville, an Urban Shepherd and owner of the landscaping business Ewe Can Do It Naturally, hunting for some mutton, but they got more than they bargained once Casper got onto the scene. 
Weirville shared the news with Atlanta News First. He said, "two-year-old Casper was standing guard over his flock of sheep one late night in early November when about 10 coyotes got too close for comfort.

Casper managed to kill eight of the coyotes, saving the sheep in his care, but in the process was badly hurt. He had gaping wounds to his neck and side – and his tail had to be docked. There were a few days the vets and staff at Lifeline Animal Project worried recovery wouldn't be an option.

"How bad are these wounds and is it something that can be fixed? Or is it something that is beyond fixing? You know that is what makes the quality of life an issue," said Katrina Coleman, a vet tech at Lifeline Animal Project.

It's relatively common to spot coyotes wandering around the metro-Atlanta area, but it's rare to see so many running together, according to the Atlanta Coyote Project. "This is extremely unusual behavior for coyotes, and we suspect that there might be extenuating circumstances," said Chris Mowry, a professor of biology at Berry College.
Weirville's company loans out sheep to help clear away brush from buildings. Sheep act as natural lawnmowers as they eat grass. Recently, for example, sheep were brought in to save an archeological site near Pompeii from overgrown vegetation. 
Social media had some fun giving Casper support as he makes his recovery.
Stack up pic.twitter.com/1fqev8OnjF

— Paul Hundred, GED (@paul_hundred) January 8, 2023
In an update on Casper's status, Weirville said, "I can't even explain how good it is to see him right now because I feel like there was no way he was going to live when I saw him, and he looks really good right now. He's injured, but he looks really good. He's happy. He's being a really well-behaved Great Pyrenees inside a place. He's a bit of a hero."
The veterinary staff at LifeLine previously said Casper will make a full recovery.
"Dr. Brosman decided Casper was doing well enough at home to drop his sedation, and we are starting to see our old Casper again with some new twists," Wierwille said. "He has enjoyed riding along with me in the truck for check-ins and whatever other work I have to do. He is even getting in and out of the truck by himself most of the time. Other times, I still have to pick his 90 [pounds] up and put him in the truck."
Casper also has a pile of blankets in one vehicle that he loves to crawl under and sleep while Wierwille drives, and he doesn't like anyone messing with his blankets.
On Facebook, Weirville also shared the news that Casper became a proud papa of eight puppies.  
After all he's been through, the hero dog deserves to put his feet up and take a break.