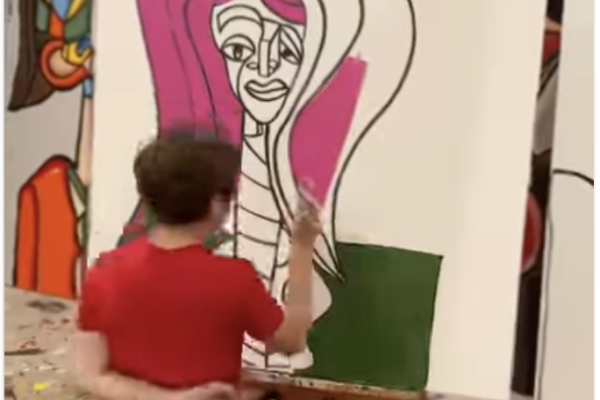 There have long been youth prodigies in art, but it's still amazing when one comes around. Meet Andres Valencia, who the New York Times has said has generated more early career recognition at 10 years old than most great artists will in a lifetime. 
The Paper of Record wrote, "In the last year, he has gone from a relative unknown to a bona fide art phenomenon. His surrealist-style paintings were acquired by deep-pocketed collectors like Tommy Mottola and Jessica Goldman Srebnick during Art Basel Miami Beach. In June, he had a solo exhibition at the Chase Contemporary gallery in SoHo, where all 35 works were sold, the gallery said, fetching $50,000 to $125,000.

One of his paintings went for $159,000 (with fees) at a Phillips de Pury auction in Hong Kong, and another hit $230,000 at a charity gala in Capri, Italy.

"I'm glad I can make people happy with my art and they can hang it in their homes," he said on a recent Monday at the Chase gallery. He was standing before one of his works, "The Professor," a large, Cubist-like painting of a man rendered in acrylic and oil that stands four and a half feet high — as tall as the artist himself. "This one I did when I was younger, when I was 8," he added shyly."
Along with the potential, Valencia has the work ethic: He aims to paint every day. "I paint in little pieces," Andres tells the New York Post. "I work on it for an hour or two. Then I go do something else. I come back to it the next day and keep adding more."
Smithsonian Magazine spoke to Andres: "The young artist says his work is influenced by Picasso, Jean-Michel Basquiat, George Condo, Salvador Dalí and Amedeo Modigliani. In the studio, he likes to listen to the Beatles, Jimi Hendrix and Freddie Mercury, he tells the New York Post.
Between his cultural influences and prodigious talent, Valencia is something of an old soul. At the same time, the New York Post writes, "he's also still a kid who collects GI Joe figures and plays with his friends after school. In fact, he was 20 minutes late for his Post interview because his mom took him to a toy store in between interviews."
Pokémon and Click N' Play army action figures have also inspired Valencia, he tells the Times." 
ABC World Tonight took video of the pre-teen making his artwork. It's incredible to watch! 
CHILD ART PRODIGY: 10-year-old Andres Valencia is the youngest artist to ever have presented their work at Miami's annual Art Week. Valencia's talent has his work selling right along with that of other celebrated artists. @VictorOquendo reports. https://t.co/9vAZsaL0Q3 pic.twitter.com/jTHEY9FeOE

— World News Tonight (@ABCWorldNews) December 4, 2021
Way to go, Andres! More of his amazing videos can be found at his Instagram page.
[Read More: AMAZING: Cuddling Proven To Help Your Heart]