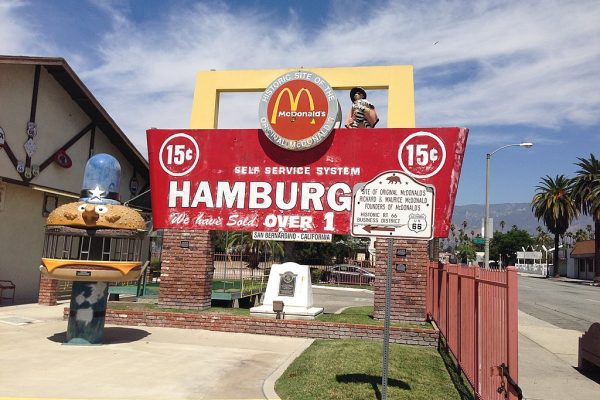 Sometimes you get a craving to take a trip down memory lane and now McDonald's has the answer. The fast food joint recently announced that it's making Happy Meals for adults. 
One outlet nailed it: "The McDonalds Happy Meal has been a part of the childhood of American kids for decades. Many of us grew up as excited about our Happy Meal toy as we were about getting the prize in the cereal box. Well, since Millennials and Xers love to revisit their childhoods in every way, McDonald's is now bringing Happy Meals specifically designed for grown-ups."
McDonald's stated in its press release: Everyone remembers their first Happy Meal® as a kid… and the can't-sit-still feeling as you dug in to see what was inside. That little red box could turn a regular Tuesday into the best. day. ever. And now, we're reimagining that experience in a whole new way – this time, for adults.

Introducing: the Cactus Plant Flea Market Box, a first-of-its-kind collaboration made exclusively for McDonald's fans by one of the most important brands in culture. It all starts with the box, which has been totally redesigned in Cactus Plant Flea Market's signature style alongside McD's iconic Golden Arches. The box will be available in-restaurant, in the drive-thru, by delivery or on the McDonald's App starting Oct. 3, while supplies last.

But it's what's inside that makes it worth the hype:
We're serving up some of our most popular menu items – choose between a Big Mac® with 100% pure beef patties topped with our fan-favorite Big Mac sauce, or our perfectly crispy 10-piece Chicken McNuggets®. And we're also throwing in World Famous Fries® and a drink for the ultimate meal.

What's a boxed meal at McDonald's without a surprise inside? Open it up to find one of four collectible figurines made just for the Cactus Plant Flea Market Box – Grimace®, the Hamburglar®, and Birdie® are back and are now joined by Cactus Buddy!, exclusively within the Cactus Plant Flea Market Box.
The Washington Post noted, "McDonald's isn't hiding its motives. "We're taking one of the most nostalgic McDonald's experiences and literally repackaging it in a new way that's hyper-relevant for our adult fans," Tariq Hassan, McDonald's USA chief marketing and customer experience officer." 
one day you ordered a Happy Meal for the last time and you didn't even know it

— McDonald's (@McDonalds) November 24, 2020
The adult Happy Meals are only for a limited time, so if you've got a craving to be a kid again, even if it's just for 10 minutes, you better get a move on.
Sometimes a little nostalgia is good for the soul. So bon appetit!
[Read More: See The Incredible 10-year-old artist turning things upside down]