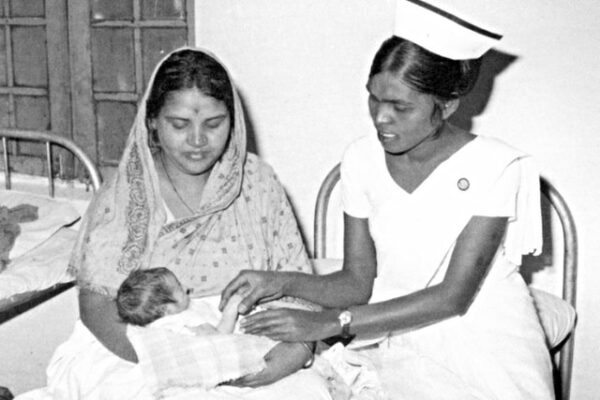 Halfway across the world, in India, blind women have almost supernatural powers to prevent cancer. Although she lost their eyesight, her fingers have developed such a delicate perception of touch that they are being deployed by health systems to be used as human mammograms. 
Her name is Meenakshi Gupta and BBC shared her story.
In a bare room in a remote government-run primary health centre in Vapi, a city in the south-west Indian state of Gujarat, Meenakshi Gupta holds a diagram of a woman's breast with five Braille-marked orientation tapes pasted on it. Speaking to the woman sitting on the bed, she says: "I'll paste these skin-friendly tapes on your breast and use my fingertips to check it for any abnormalities."

Gupta asks the woman to remove her upper garments, uses a hand sanitiser, and begins the routine examination. Dividing the chest into four zones with the tapes, she spends 30 to 40 minutes palpating every centimetre of the breast with varying pressure, before documenting her findings on her computer. Along with the patient's medical history, Gupta will later send her findings to a physician for a diagnosis of any abnormalities and advice on further assessment.

Gupta is a Delhi-based medical tactile examiner (MTE), a new and emerging profession for blind and visually impaired women in India and Europe. She is a humanities graduate, blind since birth, trained for nine months in tactile breast examinations, a specialised form of clinical breast examination. Gupta's blindness is not incidental to her role, but something that greatly aids her work.
The British news outlet also noted that "studies have proven that in the absence of visual information, the brains of blind people can develop heightened sensitivity in hearing, touch and other senses and cognitive functions. Frank Hoffmann, a Germany-based gynaecologist who developed the idea of MTE has found that during their extensive examinations, MTEs can catch lumps as small as 6-8mm. According to his unpublished research, that is less than the 10-20mm lumps that many physicians without a visual impairment can find during examinations."
"According to a study by Globocon 2020, In India, every four minutes a woman is diagnosed with breast cancer. With some 1,78,000 new cases being diagnosed every year, the incidence of breast cancer has overtaken cervical cancer to become the most common cancer in Indian women," reported The Hindu.
"What is more alarming is that it is being increasingly diagnosed at a younger age (a decade earlier) in India compared to the West. With 90,000 deaths per annum, tragically, a woman loses her life to breast cancer every eight minutes in the country. For every two women diagnosed with breast cancer, one dies of it."
Altogether, less than 1 percent of women in India have undergone breast cancer screening over the past few years. If Meenakshi gets her way, that number is going to rise and so will the number of survivors. 
[Read More: 500 Pounds Of Pasta Dumped On New Jersey River Edge]