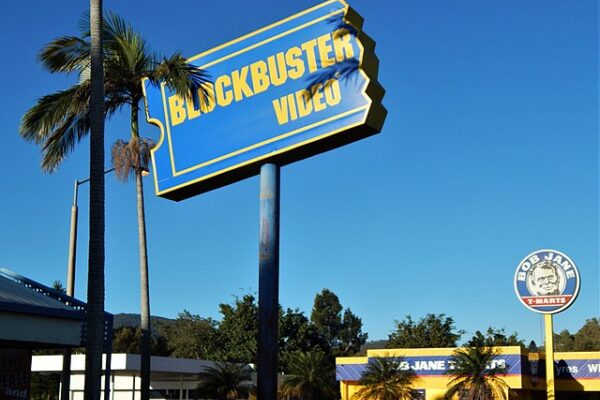 Sometimes we need a blast from the past to remind us that the old way of doing things wasn't necessarily the wrong way. Recently a legend came out of retirement to roast one of the new giants in watching movies at home.
"In the midst of Netflix announcing it would be cracking down on password sharing," Fox 2 in Detroit writers, "many have scoffed and even been outraged at the announcement. However, Blockbuster decided to take things up a notch. 
The classic, iconic video store most 90s children like myself knew as the best place to go for movies before ironically getting replaced by streaming services like Netflix, shared a little reminder via Twitter. 
"friendly reminder that when you used to rent videos from us. We didn't care who you shared it with…as long as you returned it on time." 
A friendly reminder that when you used to rent videos from us. We didn't care who you shared it with… As long as you returned it on time. @netflix

— Blockbuster (@blockbuster) May 25, 2023
The ribbing came on the heels of Netflix announcing that it would be cracking down on those who share passwords. The streaming giant recently instated a policy that restricts the number of people who can share an account and requires users to verify their identity through a code sent to their phone or email. This move has been viewed as an attempt to reduce the number of people who share passwords illegally and to increase revenue. 
While the tweet from Blockbuster was great. They old video rental store might still be smarting from seeing Netflix as the one who got away. 
Fortune magazine writes, "Netflix wasn't always an entertainment behemoth. In 2000, it was an unprofitable startup offering DVD rentals via postal mail, challenging Blockbuster, whose ubiquitous stores were then a fixture of American life. Marc Randolph, who cofounded Netflix with Reed Hastings in 1997, this week recalled some key moments in the company's history, in light of the company launching its website 25 years ago today. One of them: In 2000, the two tried to sell their startup to Blockbuster for $50 million.
They were flat-out rejected. John Antioco, CEO of Blockbuster, deemed Netflix a niche business and said "the dot-com hysteria is completely overblown," according to a 2019 book Randolph wrote about Netflix's beginnings.
Blockbuster executives "laughed us out of the room," Randolph recalled on Twitter on Thursday. But now, "the company that once had 9,000 stores, is down to a single one," he noted. 
Looking back more than two decades later, Randolph writes:
'I think the more important lesson—a lesson that Blockbuster learned too late—is simply this: 'If you are unwilling to disrupt yourself, there will always be someone willing to disrupt your business for you.'"
Over the years, Netflix versus Blockbuster has been seen as a case study for what business leaders call "disruption," and while Blockbuster might not be around anymore, at least they can still make us chuckle once and awhile.  
[Read More: Hidden Bible Chapter Found In Groundbreaking Discovery]