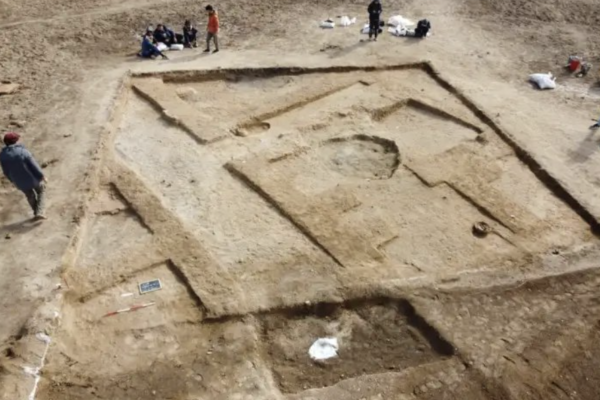 Archaeologists excavating digging in the ancient Mesopotamian city of Lagash, today in Iraq, have uncovered one of the world's oldest pubs. They have even found some drink that dates by to 2,700 BC! They even found a "refrigerator" that kept things fresh. 
The Lagash Archaeological Project.
A drone photo of one of the site's trenches, which shows two rectangular pits that held clay. Further evidence that Lagash was a site where significant craft production took place.
📷 Lagash Archaeological Projecthttps://t.co/RpY4xuu2xk pic.twitter.com/TU66MYFL4B

— Ticia Verveer (@ticiaverveer) January 26, 2023
The Lagash Archaeological Project (LAP) Director and Curator of the Penn Museum's Near East Section, Dr. Holly Pittman said that the ruins of the ancient bar are just 19 inches underground and describes the find as a place that offered both open-air and inside dining to patrons. 
CNN reported, "Researchers working in the ancient city of Lagash discovered that the pub, hidden just 19 inches below the surface, was split into an open-air dining area and a room containing benches, an oven, ancient food remains and even a 5,000-year-old fridge.

They initially found themselves in the open courtyard space, an area that was difficult to excavate, being "open and exposed to the outdoors," Reed Goodman, an archaeologist from the University of Pennsylvania, told CNN.

After returning to the mysterious courtyard a few months later, in fall 2022, field director Sara Pizzimenti, from the University of Pisa, broadened the trench.

The team then discovered the industrial-sized oven, a moisture-wicking ancient "fridge," to keep food cool, and dozens of conical bowls, many containing fish remains, revealing the purpose of the courtyard to be an outdoor dining area."
The Jerusalem Post offered more details of hte dig. "Since their start in 2019, archaeologists have found two houses, roads, alleyways, pottery and ceramic kilns that have stayed intact for thousands of years. 
Dr. Pittman said that the residents in Lagash were neither elite nor slaves but rather independent people living in urban neighborhoods, a different approach than what archaeologists would have previously thought when excavating areas like this.
"Probably what we have – and especially in an environment as precarious as southern Mesopotamia – is that you have a broad band of people that we might consider 'middle class' during the 3rd millennium," Dr. Pittman explained. "They had agency; they made decisions. They didn't have wealth necessarily, but they were largely independent and had mobility."
The Lagash Archaeological Project has been working with nearby residents during excavations. The researchers would teach school kids and their families about archaeology and explain the area as well as show what they have found as they explained what they were used for."
Dr. Pittman's website explains the location of the site, what they're working on, and how important this find really is. "The site of Tell al Hiba, ancient Lagash, at over 600 hectares, is one of the largest mounds in southern Mesopotamia. It was occupied from the fifth millennium into the middle of the second millennium BCE. A joint project of the Penn Museum, Cambridge University and the State Board of Antiquities and Heritage in Baghdad, begun in 2019, has renewed work at this critically important settlement, home to one of Mesopotamia's Bronze Age cities.
Tell al-Hiba (Ancient Lagash) is located 24 km east of the town of Shatra in Dhi Qar Province of southern Iraq (Latitude 31° 24′ 39 9.0000″ 31.4025° N, Longitude 46° 24′ 39 9.0000″ 46.4025° E). The region has always had a mixed ecology, with marshes surrounding habitation sites at higher elevation. Until the mid-twentieth century much of the region was accessed by boat.
The mound measures approximately 3600m in length and 1900 m wide at its largest extent. Though large, the mound has a low topography, with its highest point rising only six meters above the level of the plain. It reached its largest extent by the end of the Early Dynastic period when it was destroyed by Lugalzagesi (2358 – 2334 BCE) of Uruk."
[Read More: See The Most Beautiful Building In The Middle of Nowhere]