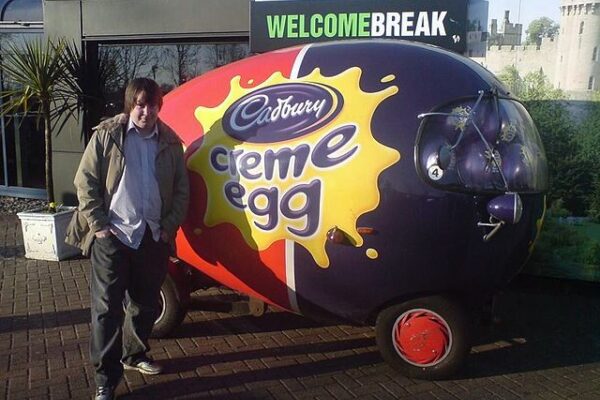 Without the quick thinking and good work of police officers, Easter in England might have been ruined after a thief tried to steal one of the must-haves of the season. 
A man in England has pleaded guilty to busting into an industrial park in order to steal nearly 200,000 Cadbury Creme Eggs worth almost $50,000. 
Reports say that "Joby Pool, 32, was charged with criminal damage and two counts of theft for the incident, which was reported on Feb. 11 in the town of Telford, according to West Mercia Police in central England.

Prosecutors accused Pool of using a metal grinder to break through a gate at an industrial park, then using a stolen semi truck to tow away a trailer loaded with the chocolate goods. The Cadbury Creme Eggs and other chocolate goods were estimated to be worth more than 40,000 pounds ($48,000), according to police.

Police said the 'eggs-travagant' theft was discovered shortly after the break-in when officers stopped a vehicle, "presumably purporting to be the Easter bunny" on a highway.

https://twitter.com/WMerciaPolice/status/1625150564077121537?s=20
The Guardian answered the question everyone was thinking: How exactly does one steal so many pieces of chocolate? 
The plot took a lot of planning and the thief used a metal grinder to cut through a fence. The newspaper said that Hood "used a tractor unit that had been stolen in the Yorkshire area in October to tow away the trailer full of chocolate, which was then driven away, eventually reaching the northbound M42.
Pool was spotted by police and 'gave up at junction 11 and walked towards the police with his hands up. He was arrested and the load was recovered.'
'This clearly wasn't spur-of-the-moment offending, if I can put it like that, because he had taken with him a tractor unit and he had to know that the load was there in the first place,'" prosecutor Owen Beale told Kidderminster magistrates court.  
The great egg thief is expected to be sentenced to two years in prison.
[Read More: New Vaccine For Terrible Disease Being Rushed To Market]