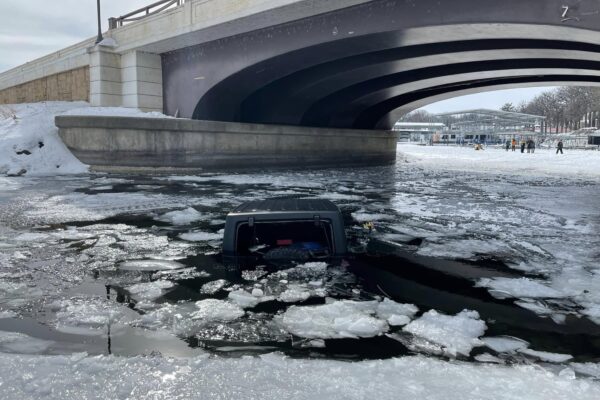 While fishing and watching snowmobile races with his mom, Joe Salmon watched a jeep fall through the ice on a lake. That's when this brave higher schooler from Iowa took action. He quickly jumped into the water to save an elderly gentleman, Thomas Lee, and his golden doodle. 
Lee said he was going to his son-in-law's fishing shack when his car crashed through the frozen lake.
That's when Joe and four others spring into action. 
 Corey McConnell, 30; Kody Harrelson, 26; Cody Chester, 27; and Chris Parks, 27; also helped pull the man and dog to safety, the sheriff's office post told the Des Moines Register.

Salmon — a wrestler, football player and track runner — was ice fishing with his mother while watching snowmobile races on East Okoboji Lake when he saw the Jeep around 3 p.m.

Salmon grabbed his phone and dialed 911. Lee appeared to be in shock as Salmon and the four others told him to get out, he said. Then he heard someone say something was moving in the back.

"I took one step and [the water] went to about my chest," he said. "I got on the bumper of the rear and tried opening the back door, but all the windows were locked, but one guy gave me a knife and I hit the back glass a couple of times."
Joe used a knife to break the window and pull Thomas and his pup to safety. 
Salmon described the scary scene to Tucker Carlson.
Lee told the news that he was grateful for high schooler's quick thinking and thanked a local store that helped him and his dog dry off.
Joe said his "quick thinking and physical preparedness" came from "playing three sports and being familiar with the area," The Daily Mail wrote. 
"The old man was taken to a hospital and was 'doing well,' the Dickinson County Sheriff's Office has said. 
Following his heroics, Joe went back to ice fishing alongside his mom." 
[Read More: Researchers Claim To Have 'Cured' Autism]