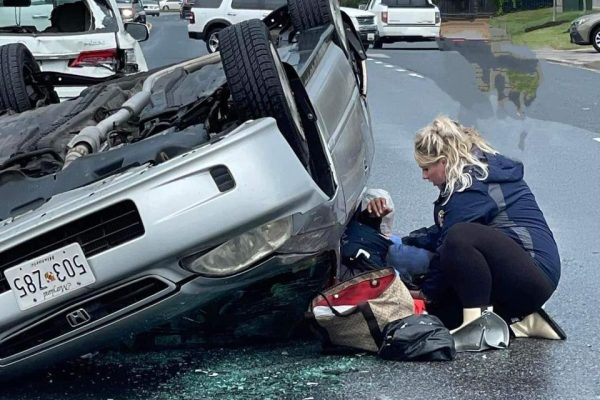 Last fall, a pregnant firefighter caught in a car crash in Maryland helped save one of the victims stuck under a vehicle, despite going into labor.
Megan Warfield, a firefighter for the Bowleys Quarters Volunteer Fire Department in Baltimore county, Maryland, "was nine months pregnant with her third child when the car she was riding in crashed and she began to experience contractions.
But she didn't allow herself to go to the hospital and give birth until after helping free a woman trapped under another car in the wreck, actions that drew widespread praise."
During an appearance on TODAY, Warfield said that at first got out of her car to just direct traffic to keep everyone safe, but then she realized one of the cars was flipped over. That's when instincts took over," according to The Guardian. 
"I started to climb in there with her, but then I was like, 'What are you doing? You're nine months pregnant,'" Warfield told TODAY Parents. "I ended up holding onto her to keep her in place because I wasn't sure of her injuries at the time.

Shortly after paramedics arrived to take over, Warfield, who had been on desk duty during her pregnancy, decided she should go to the Johns Hopkins Hospital in Baltimore to get herself checked out. The accident had induced labor and, unbeknownst to Warfield, had knocked her unborn baby into a traverse — or sideways — position.

"I don't know how I did what I did because the cramping was so bad," Warfield said, when asked how she was able to get down on the ground and help. "I must've just been running on adrenaline."

Warfield and her boyfriend, Joshua Daugherty, welcomed a healthy little girl named Charlotte on Oct. 4, less than 24 hours after the crash. Charlotte joined siblings Ellie, 6, and Jameson, 5.
Funny enough, it was Daughtery, a paramedic, who arrived on the scene first to help with the crash. 
Megan Warfield is a firefighter in Maryland.

At nine months pregnant, she was involved in car crash that induced her labor. Instead of helping herself first, she freed a woman trapped underneath a car.

Then, she went to the hospital and gave birth to a baby girl. pic.twitter.com/bBR5oJiwyI

— Goodable (@Goodable) October 18, 2022
The Chief Fire Officer at Bowleys Quarters Volunteer Fire Department said he wasn't surprised to see Warfield offering help because it's typically what she does. He was still taken back, a little though: "It's not uncommon to see our volunteers on scene, but to see one that's been on administrative duties only laying in glass and oil trying to care for someone just weeks out of her due date, it blew my mind. You don't see that everyday." 
For Warfield, she believes it's what anyone else would do. She told local news, "It's just first instinct to me, you know, I'm a firefighter for Baltimore County so I just kind of went right into that. What's the first thing to do, assess the situation and how can I help and get additional resources as quick as I can."
She and baby Charlotte are doing well. 
[See the Heartwarming Halloween Video Taking Over the Internet]