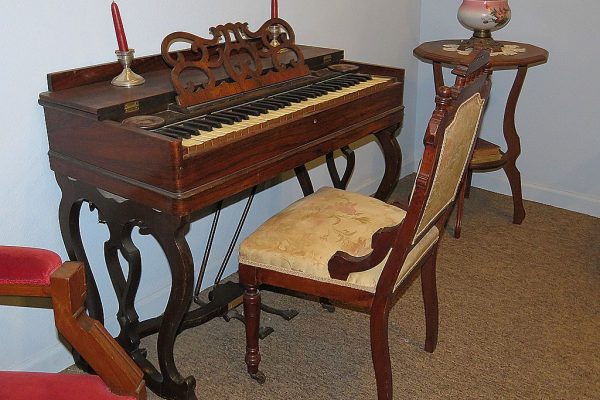 L.R. Knost once said, "Music speaks the language of the soul, penetrating into the past and resonating into the future, unearthing pain and tenderness and sorrow and joy, reminding us of our infinite fragility and extraordinary strength, reigniting our dreams and passions once again to remind us of who we are meant to be." 
Mark Waters, the owner of an antique shop in Norwood, Massachusetts, recently lived that out personally when a musician walked into his store and asked to play an antique piano sitting in the window. 
A local CBS shared the details. "[Over the weekend,] this young gentleman came in, he said to Melissa [Redeker], 'You don't mind if I play the piano?' Absolutely help yourself! He started playing and the place lit up!" Waters said.
The mystery musician dazzled the crowd and was on his way. Days later, fellow shoppers are still raving about his performance, and everyone agrees that piano belongs with him.
If they find the customer, and the man has no space or use for the piano, Mark would love to simply pay him to play some more.
"Especially in today's society. Everybody's on each other's nerves. You can't blame them; Everybody's locked up. There's too much stuff going on in this life. Let's loosen up, relax, chill out. If you can use the piano? Good. Our customers are the best. We do have a good time. It's just a fun place. And that's the way I want it to be. Fun."
The store's Facebook page blew up on Saturday after they posted the video.
"He started playing and the place lit up!" Waters said. 
Now, according to Boston.com, "the mystery musician has been found, thanks to the aid of Juli McDonald at WBZ Channel 4, who interviewed Waters and aired a segment on the 11 p.m. news on Tuesday night.
The impressive pianist is John Thomas Archer, a 23-year old architecture student from Mattapan. Archer told The Boston Globe that it was his girlfriend that had sent him a text, letting him know that he was being looked for. He heard about the video on Tuesday night.
'My girlfriend sent me a text that the media was looking for me," he said. 'I didn't know so many people would be affected by watching me play. I am just baffled.'"
Hopefully, John can find time in between his studies to keep bringing joy with his music. 
[Read More: Neptune Seen Like Never Before]