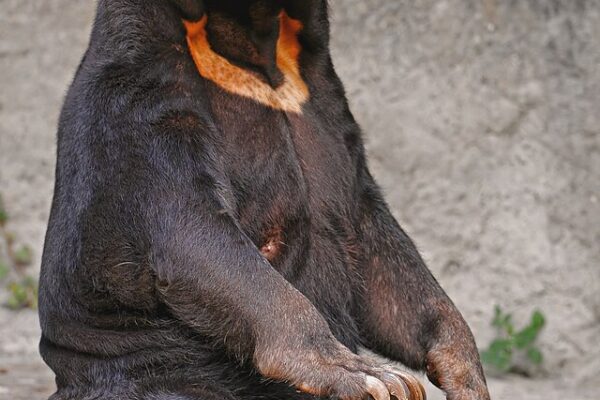 A zoo in Hangzhou, China, has become a source of one of the strangest conspiracy theories you're ever going to read about. Located in the southeastern part of the country, visitors to the animal park have become convinced that a man lives in the bear exhibit and dresses up in a bear-like costume to entertain the crowds.
CNN reports that the zoo "in eastern China has denied suggestions that some of its bears were people dressed in costume after videos of a Malayan sun bear standing on its hind legs – and looking uncannily human – went viral, fueling rumors and conspiracy theories on Chinese social media.
In a statement written from the perspective of a sun bear named 'Angela,' officials from Hangzhou zoo said people "didn't understand" the species.
'I'm Angela the sun bear – I got a call after work yesterday from the head of the zoo asking if I was being lazy and skipped work today and found a human to take my place,' the statement read.
'Let me reiterate again to everyone that I am a sun bear – not a black bear, not a dog – a sun bear!'"
You can make the determination for yourself. Is this a bear or a costume?
The New York Times explained that it's not entirely unreasonable to believe that the bear is actually a human wearing a costume. "One commenter joked that being the bear was probably someone's summer job, while another said that the prominent folds on the bear's fur looked too much like those of a costume. (Experts say sun bears have loose skin that helps them wriggle away from predators).
Those users, joking or not, may have also had cause for suspicion. At a panda reserve in Sichuan Province, keepers sometimes wear panda costumes to limit the animals' stress and their problems of human attachment."
"Attendance numbers at Hangzhou zoo have risen by 30% to about 20,000 a day, with some people travelling overnight, since a video of the Malayan sun bear, named Angela, became a trending topic on Chinese social media over the weekend,"  according to Reuters.
"'After seeing this bear standing up on the internet, I wanted to see how it looks in real life, so I came here," said a man surnamed You, who said he had only half-believed the video he saw online, Chao News reported.
Another visitor said something similar: "After we saw the video on the internet, we specially took the high-speed train from Suzhou to come over to see the bear," another visitor, Qian Ming, told a Hangzhou TV station. "We travelled overnight last night to get here. The bears are so cute."
Sun bears are the smallest and least studied bear species in the world. They live in Southeast Asia's dense tropical forests and have a distinctive look with a black coat and a golden crescent-shaped mark on their chests. Despite their small size, they are agile and adaptable omnivores that eat fruits, insects, small vertebrates, and honey. However, sun bears are at risk of extinction due to deforestation, illegal hunting, and the illegal pet trade. It is important to conserve these creatures and their ecosystems by learning more about them.
[Read More: Historians Claims To Know Where Ark of The Covenant and Holy Grail Are Buried]