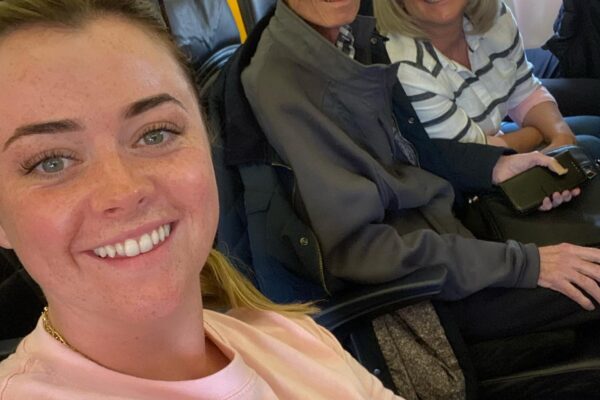 A man in England has proven that the most powerful cure for illness in the world might be the love of a grandfather for his grandchildren. Eddie O'Grady began suddenly losing weight in 2021 and after a few months he looked so frail that his family believed they were going to lose him.
That's when his daughter Lucy gave him a purpose to keep fighting for.  
"Lucy told The Epoch Times that her father's weight had begun dropping drastically in September 2021. By Christmas that year, Eddie was unrecognizable. It took almost a year for doctors to diagnose that he was suffering from refractory celiac disease."
That's when she shared the increidble news with her father that she was going to have a baby and Eddie became more determined than ever to keep fighting. 
The Epoch Times continued, "He was placed on TPN (total parenteral nutrition) and fed intravenously 24/7, bypassing his stomach and keeping him alive. He was on steroids and daily autoimmune suppressants, which put an end to chronic diarrhea that had meant up to a dozen visits to the bathroom overnight. From a low of 35 kg (approx. 77 pounds), he gained weight slowly back to 61 kg (approx. 134 pounds), almost his normal weight of 70 kg (approx. 154 pounds).
View this post on Instagram
"Baby Amelia was born on Jan. 17, 2023. Lucy's feeling that she had 'won the lottery' went stratospheric when her father, five months into his recovery, arrived to meet his granddaughter, the first baby girl of her generation in the family," the newspaper reported.
"She is perfect in every way!" Eddie said. "The bond I feel with Amelia is precious, and I know the future is going to be great … the feeling of excitement and pride with our little girl giving birth to her little girl is amazing. I felt that nothing was going to stop me being a big part of our granddaughter's life."
View this post on Instagram
Eddie's illness is terrible. One health website explains, "Celiac disease is a common gastrointestinal disorder that most people manage with a gluten-free diet. However, people with refractory celiac disease who omit gluten do not see an improvement in their symptoms and continue to have the hallmark signs of damage to the gut.
While experts estimate that about 2 million people in the United States have celiac disease, many do not have a diagnosis from a doctor."
If his experience shows anything, however, it's that the love of a grandpa for his granddaughter might be some of the best medicine available. What a miracle. 
[Read More: Dark Energy Source Discovered In Space]