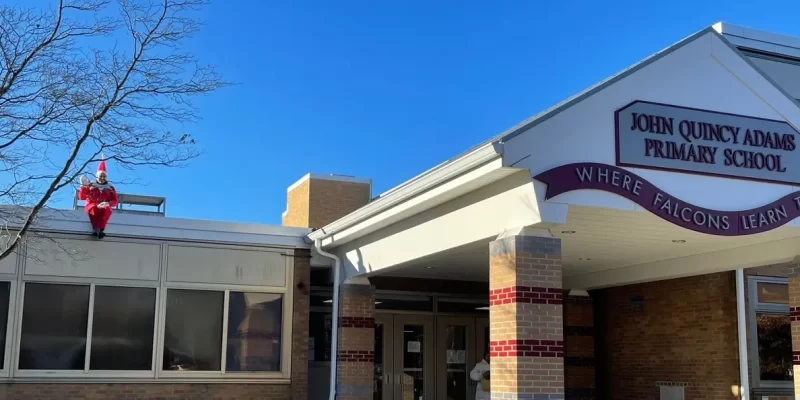 Students at an elementary school in Deer Park, New York, got a fun surprise during the week before Christmas break when they saw a "familiar 'elf' on top of their school building."
"When students at Deer Park's John Quincy Adams Primary School on the morning of Dec. 14, they were greeted with "Elf on the Shelf" on the school roof — but most days, they call him Principal Christopher Molinelli," according to Patch.
"The Elf on the Shelf tradition started back in 2005, when Carol Aebersold and her daughter, Chanda Bell, self-published the book 'The Elf on the Shelf: A Christmas Tradition.'
'It was certainly an exciting way to start off our day,' Molinelli said."
The Epoch Times reported that Molinelli misses interacting with students the way he did when he was a teacher in the classroom rather than an administrator and some parents came up with a great idea: would he be willing to dress like an Elf on the Shelf?
The outlet wrote, "A parent bequeathed the elf costume to Molinelli and, with help from staff, the principal got the ball rolling on a new Christmas "tradition."
Soon enough, the principal began popping up all over the school. 
"He sat on lookout from the main office window; he appeared inside a Christmas train; he slept on the security desk; he plans to hide up a tree next."
Eventually, however, he made it to the best spot when he sat on top of the school's roof, waving as the schoolchildren got off the bus and marched into class. 
He told The Epoch Times, "I was just trying to find a spot for every single child to see me as they entered," Molinelli said. "We have students who are 4- and 5-year-olds, and we have students that are seven-year-olds.
Some students were just amazed at how an elf could be on the roof, then others were staring at me, waiting for me to blink and saying, 'It's the principal up there!'"
Molinelli is clearly doing something right. John Quincy Adams Elementary was recognized as one of the best schools by the New York Department of Education.