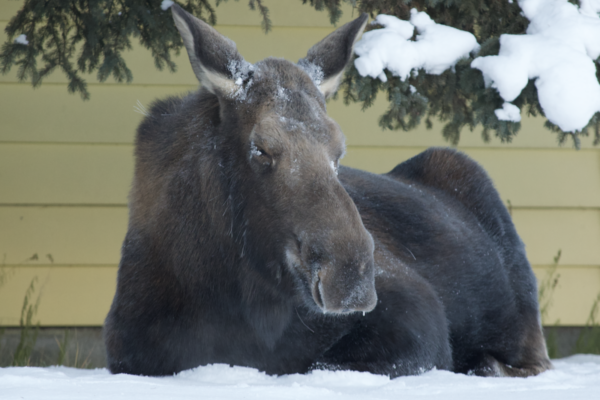 Everyone knows that if you have a cat in a tree, the fire department is the one to call for the job, but what do you do if it's a moose instead? The Alaska Wildlife Troopers found themselves in need of assistance to rescue an animal recently, and they asked for backup from the local fire department in Soldotna, Alaska, near Anchorage.
"They were looking for some help getting a moose out of a basement," Capt. Josh Thompson with Central Emergency Services on the Kenai Peninsula told ABC.

The moose, estimated to be a 1-year-old bull, had a misstep while eating breakfast Sunday morning by a home in Soldotna, about 150 miles (240 kilometers) southwest of Anchorage.

"It looks like the moose had been trying to eat some vegetation by the window well of a basement window and fell into it, and then fell into the basement through the glass," Thompson said.

A biologist with the Alaska Department of Fish and Game was able to tranquilize the moose, but the animal wasn't completely unconscious.

"He was still looking around and sitting there, he just wasn't running around," Thompson said.
"Two residents off Ciechanski Road heard a noise at night and stepped outside to look down at their below-grade basement, Gunnar Romatz, one of the rescuers said. What they saw was a moose that had fallen through the well of a window.
The basement window is surrounded by metal grating, which pushes the ground away from the window and forms an opening 2 1/2 or 3 feet wide, he said. "Well, the moose fell into that. Its back legs went through it, and then it just continued sliding into their basement."
"The intruder found itself in the basement bedroom with the door shut," Romatz told the Anchorage Daily News.
Once they got the young guy tranquilized, they needed to figure our how to get the 500-pounder out of the house. 
"Improvising a bit," The New York Post reported, "responders grabbed a big transport tarp that's typically used as a stretcher for larger human patients and loaded the animal onto it. It took six burly firefighters to carry the moose through the house, up a flight of stairs and back outside.
Photos of the morning rescue show the moose unfazed, looking ahead between the two men maneuvering the front of the tarp down a hallway, watching where they are going.
Thompson said the moose just hung out for a while after they got outside until a reversal agent for the tranquilizer kicked in. The biologist also treated minor cuts on the back of the moose's legs from falling through the window."
[Read More: European Space Agency Makes History With Newest Astronaut]