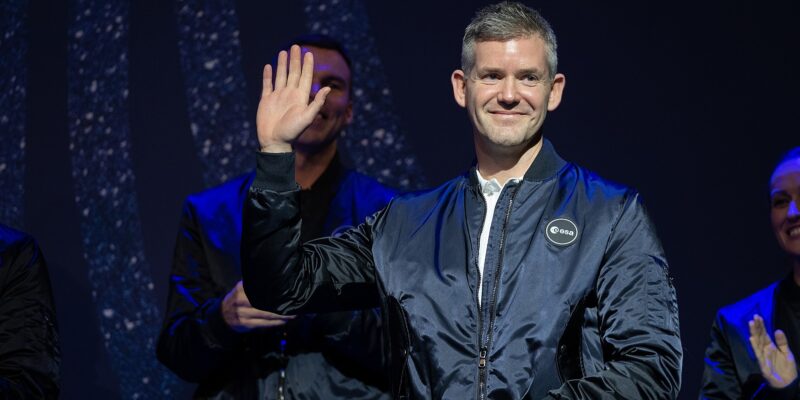 The European Space Agency (ESA) recently made history when it announced the latest round of eleven astronauts to join its team. One of those who made the cut was John McFall from the United Kingdom. At the age of 19, he lost his right leg following a motorcycle accident. 
Mcfall is an exceptional person. Along with being an astronaut, he is also an orthopedic surgeon who once represented Great Britain and Northern Ireland in the Paralympic Games in Beijing in 2008, where he won the bronze medal in the 100 meters.
The Washington Post writes, "John McFall, a 41-year-old British paralympic sprinter who now works as a doctor, is one of 17 candidates chosen from 22,500 applicants to join the space agency's 2022 astronaut class. The successful candidates will now complete one year of basic training in space technology, science and medicine at the European Astronaut Center in Cologne, Germany, before entering the next Space Station training phase where they will be taught how to operate station elements and transport vehicles.

McFall will take part in the ESA's "Parastronaut Feasibility Project," which the agency said in a statement was intended to "develop options for the inclusion of astronauts with physical disabilities in human spaceflight and possible future missions." While it can't at this stage guarantee that McFall will be sent into space, the agency has said it will "commit to trying as hard and seriously as we can" to make it happen.

European space officials have been using the term "parastronauts" to refer to people who are "psychologically, cognitively, technically and professionally qualified to be an astronaut, but have a physical disability that would normally prevent them from being selected due to the requirements imposed by the use of current space hardware."

Through technical studies, space simulations, analogue missions and conversations with the agency's international space partners, the ESA hopes McFall's participation in the program will allow the agency to determine what is required to send a person with a physical disability into space.
McFall beat out thousands of applicants for the position. "After announcing last year that it would be selecting new astronauts for the first time since 2008, ESA received more than 22,500 applications from 25 countries, 17,126 of which were from men and 5397 of which were from women," according to New Scientist.
"There were 257 applications specifically for the role of 'parastronaut', which ESA confined to people with "lower limb deficiencies". This was defined as either a single or double foot deficiency through the ankle or below the knee, a pronounced leg length difference or a height below 130 centimetres.
The successful astronauts had to make it through six stages. After the initial screening, the first group of candidates went for a full day of psychological performance testing to see if they could cope with the stresses of space flight. This group was then whittled down to just over 400 people, who then went for more psychological interviews and group tests. Those who passed took medical tests and, if they passed, were invited to a final round of recruitment interviews.
This training involves getting to grips with space flight, learning about systems on the ISS, survival training and spacewalking, as well as specialized skills, such as remotely operating a robot, docking with spacecraft and learning Russian."
The ESA is already partnering with NASA to go back to the Moon. In 2019, "ESA Director of Human and Robotic Exploration, David Parker, and Associate Administrator for NASA's Science Mission Directorate, Thomas Zurbuchen, signed a Statement of Intent to coordinate joint science research about the Moon and identify opportunities for lunar mission cooperation."
[Read More: Teen Cancer Patient Fulfills Dream of Marrying Love Her Life]