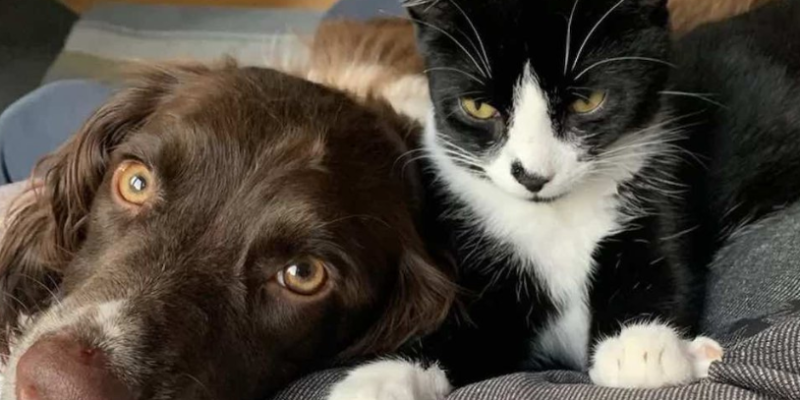 A black and white cat named Mowgli went missing on October 20 in Cornwall, England, and after days of searching, owner Michele Rose started losing hope that she'd ever see her precious kitten again. 
That's when the family dog named Daisy started "going berserk."
Making her best Lassie impression, the pup, a springer spaniel, excitedly led her owner into the nearby woods and to an old and long-abandoned mineshaft. 
Mr Rose said Daisy kept "running back and forth" between the mineshaft and Mrs Rose to alert her to the fact that Mowgli was there as she had heard the cat meowing.

"Daisy and Mowgli are pretty good mates so she could probably tell he was down there," Mr Rose said.

"Near our house there are lots of old mineshafts and behind our field there is one, and Mowgli would have just been wandering around as he is still quite young, writes Yahoo.

"I don't know how, but he had wandered down and fallen about 100ft down this mineshaft."
Luckily for the scared kitty, a team from the RSPCA and Cornwall Fire and Rescue conducted a rescue, using ropes and a cat cage to get the little guy out of the hole he'd fallen into.
"Remarkably, he was absolutely fine," Rose told The Independent.
"We rushed him to the vet's after, who gave him a good check over."
Michelle's son added: "If Daisy wasn't the favourite child already, she definitely is now."
After spending time stuck in a mineshaft, Mowgli was treated to "lots of cuddles on the sofa with mum" and "lots of chicken, with his favorite food.
For her heroism, the newspaper reported that Daily was treated to chicken and dog treats.
The family adopted Mowgli back in December 2022, alongside Baloo, another rescue kitten. Everyone's happy the gang is home again, safe at last. 
[Read More: Greek Authorities Can't Believe What They Have To Detonate]