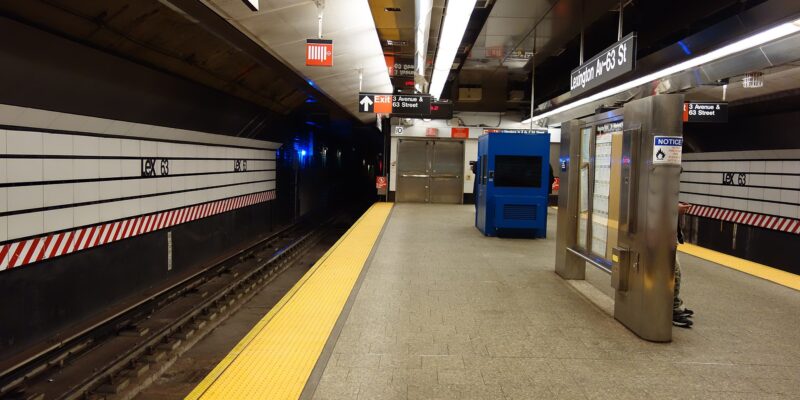 A breathtaking video captured some of New York's finest saving a man who fell off a subway platform right before the train whizzed by where they were just moments prior. The New York Post reports, "The cops were patrolling the southbound platform when the man fell from the northbound side onto the tracks, police said.
The East Harlem station does not have a mezzanine connecting the platforms, so the cops sprinted upstairs, across the street and back down the subway stairs to the northbound side."
The heroics of NY's Finest always amazes me. For the @NYPD25Pct officers who rescued a man from an oncoming train after he accidentally fell on the subway tracks yesterday in Manhattan — the courage is second nature. Join me in saluting these great cops! pic.twitter.com/hOo9aVp9tK

— Commissioner Sewell (@NYPDPC) November 25, 2022
Local news noted the victim potentially "suffered a possible medical issue and fell onto the city's subway tracks on Thanksgiving, police said.
NYPD Officers Brunel Victor and Taufique Bokth were conducting a transit sweep at the station, located at East 116 Street and Lexington Avenue, when officers were told by other riders that a man had fallen onto the tracks. 
Bodycam video released by the NYPD shows the officers rushing down to the subway platform and finding the victim on the track, where another rider was already trying to assist. Together with the good Samaritan, police were able to lift the 40-year-old man back to the platform and out of harm's way.
One of the officers, however, was still on the track after helping to lift the man — even as the uptown 6 train approached, the footage shows.
He is soon helped back up the platform, with just seconds to spare before the train comes into the station."
"Our daily thing is to help people. We don't care what if we have to put ourselves on the line. That's why we do, that's why we take this job," Officer Victor told ABC 7.
MTA Chair and CEO Janno Lieber release the following statement:
"The joint commitment by Governor Hochul and Mayor Adams to have additional NYPD officers patrol in subway stations and on trains not only helps riders feel safer, but in this case enabled brave officers and a good Samaritan – in the finest tradition of New Yorkers helping each other – to save a life."
Outside of a scare and some scrapes, everyone involved was uninjured. I'm sure when those officers got home their Thanksgiving meal tasted extra good. 
[Read More: NYC Subway Riders Enjoy Thanksgiving Feast On Train]