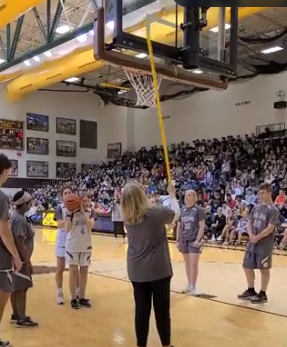 It's almost March, and that means basketball. In Zeeland, Michigan, while standing at the free throw line, a teenager was met with dead silence as she stood at the free throw line. 
That was the only way she could make a bucket. 
And you thought March Madness was exciting. Zeeland Public Schools Unified Basketball took over the court this morning, and the crowd went WILD! #ZpsLearningForLife pic.twitter.com/jrnFeBy7bP

— Zeeland Public Schools (@zeelandschools) March 22, 2022
The New York Post writes, "The video of a Zeeland East High School basketball player scoring a bucket during a game against Zeeland West in Michigan this week has gone viral.

In a video posted by Zeeland Public Schools Unified Basketball, 17-year-old junior Jules Hoogland, who is blind, can be seen getting ready to shoot the ball from a few feet in front of the basket. The packed gym of 2,500 went went silent as classroom aide Cheryl Beute tapped the bottom of the backboard with a yellow pole to signal the location of the hoop.

Following a few taps, Hoogland made the shot and fans inside the gym went wild, screaming and cheering for the teen.
Jules told Fox 17, "I was like, 'Everyone's staring me better. Can't see them staring at me.' So this is good."
Due to her disability, Jules has help on the court. The girl in the video behind Jules is Ally Guffey. 
Jules said, "She's my eyes on the court, because I don't have my cane side to put my trust in here to make sure she doesn't let me get hit by balls, and she guides me in the right direction."
"I had never met anyone who was blind before. So I knew nothing. She put a lot of trust in me. And it just… we had a lot of trial and error. But we have come very, very far. And now we're in a class together for the past two years," Guffey said.
The two knew each other in middle school, but their time playing basketball has made them closer than ever. They say they're more like sisters. 
We're going to see a lot of great basketball over the next month or so, but it's going to be tough to beat Jules. 
[Read More: The Webb Telescope Is Changing Everything]