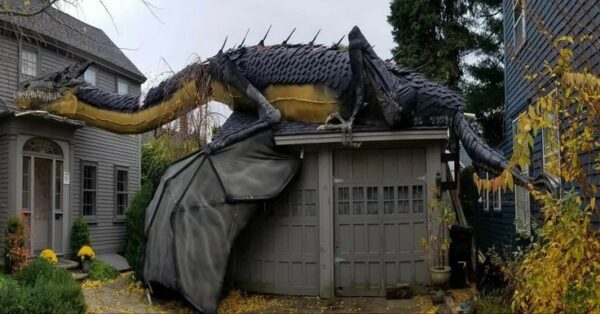 There's nothing better than a good Halloween decoration. Whether it's pumpkins, spooky spiders or the latest craze–gigantic skeletons–most of us love putting on a show for the trick-or-treaters going door to door to get their loot. 
For architect Tom Saltsman, 60, however, Halloween offers him a chance to show off his skills. He might have the best decorations in the whole world. 
Every Halloween Tom Saltsman creates towering displays that take over his driveway in Marblehead. This years theme is an Egyptian goddess. I got a sneak peak ahead of the big Halloween reveal. Stay tuned to @wbznewsradio to hear more! 👻🎃 ( last two 📸: Brooke Trivas) pic.twitter.com/pmhm8kS8pd

— Brooke McCarthy (@BrookeWBZ) October 31, 2022
For the past eight years, Tom Saltsman has been transforming his front yard in Marblehead, Massachusetts, into a spooky spectacle, captivating his community with his giant Halloween-themed sculptures. From an enormous dragon on his roof to a moving rendition of King Kong and a 22-foot-high Egyptian god, Tom's installations have become a local legend in Marblehead, writes The Mirror.

Tom, who works as an architect, dedicates up to two months every year to preparing these installations, often with the help of friends and family. His wife, Brooke Saltsman, and three friends assisted him in painting hieroglyphics on the Egyptian god sculpture he built in 2022.

Despite the attention his creations receive, Tom remains humble, viewing his work as a fun outlet for artistic expression and a way to bring joy to his community. Using materials like plywood, bin bags, and various types of foam, Tom keeps his costs low, spending less than £165 ($200) on each installation.

His pieces are not just displays but immersive experiences, designed to look like they magically appeared in his yard, adding to the wonder and excitement of the Halloween season. For Tom, the installations are more about connecting with his community and providing a source of enjoyment for others.
Tom is humble about his pieces and considers them more of a hobby or a way to connect with people than a claim to fame, writes The Good News Network.
"It's just kind of a fun outlet for artistic purposes," he said. "It's mainly for the community to come and enjoy it."
"For the installations, it needs to look like it just appeared. The dragon looked like it just landed on my house—the spaceship too."
"People really get a kick out of it, (and) I've got very patient neighbors."