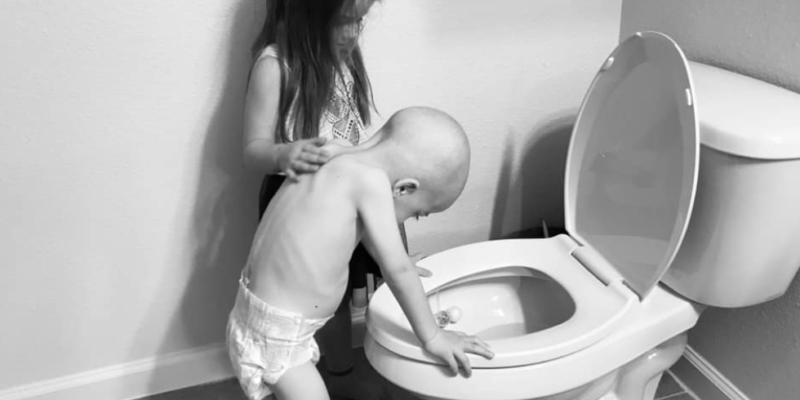 You may have seen his picture in a recent national "He Gets Us" ad campaign, but now you should know the story of Beckett Burge, one of the toughest kids you'd ever meet.
The three scariest words in the English language might be "your child has cancer." A few years ago, that's exactly what Kaitlin Burge heard about her son, Beckett. 
The New York Post wrote that "Beckett's daycare had called her on April 23, 2018, to ask her if she could come get him because he had been running a fever. An after-hours pediatric center diagnosed him with an ear infection and prescribed antibiotics. His regular pediatrician said that if his symptoms didn't improve to come back or go to the emergency room. The next day, Beckett's fever spiked to 104 and his doctor sent them to Children's Health in Plano.
'I was expecting to hear he had a punctured eardrum or something he would bounce right back from with a few days of antibiotics. The ER nurse walked in about an hour later and had a portable cell phone in her hand,' Burge wrote, on Sept. 15, 2018. 'She said 'your pediatrician is on the phone and would like to speak with you.' I figured he was just checking in. That's the kind of guy he is and that's why we love him. He informed us that the CT scan came with pneumonia in his left lung and his labs came back with a hemoglobin of 5.5 and a white blood cell count of 150,000. He then informed us that Beckett had leukemia.' Acute lymphoblastic leukemia to be exact. 
The treatment was tough on the little guy. Her early September 2019 post—which coincided with National Childhood Cancer Awareness Month went viral after being shared more than 40,000 times by followers of the Beckett Strong Facebook Page. "I want people to know what childhood cancer looks like," Kaitlin Burge said. "The good, the bad and the ugly."
The image of Beckett, with his older sister Aubrey there to comfort his after vomiting from the chemotherapy, spread around the globe in 2019, garnering sympathy and raising awareness of the difficulties associated with childhood cancer. Beckett had spent over thirty days in the hospital, and his sister couldn't visit him, and she wanted to make sure she was there for him when he came home. 
After two years of fighting, and amid a pandemic, the Burges got great news in 2021: Beckett won and he got to ring the bell. 
ABC World News Tonight did a segment on his victory:
MAJOR MILESTONE: 6-year-old Beckett Burge is celebrating being officially cancer-free after being diagnosed with Pre-B Acute Lymphoblastic Leukemia in 2018, with an image of the boy's sister comforting him going viral. @DavidMuir reports. #AmericaStrong https://t.co/jwmPiE6ckg pic.twitter.com/wosarzoO6w

— World News Tonight (@ABCWorldNews) October 20, 2021
In a more recent interview, Kaitlin talked about Beckett and Aubrey's fight, saying, "I witnessed my one and only son go through a lot while maintaining a smile. I watched as my dear Aubrey battled through a challenging period in her life and emerged as a strong, independent young woman. She saw her closest friend and brother in a position that no brother or sister should ever have to go through."
Kaitlin also gave an important update on Beckett: He is doing great and is through with therapy. He is back to school and is currently getting all A's in second grade. 
Even more importantly, just a month ago, Beckett became a big brother! 
You know he'll be there for his little sister just like his big sister was there for him. 
Tough times don't last, but tough people do. No one shows that more than Beckett Burge, a superhero in his own right.