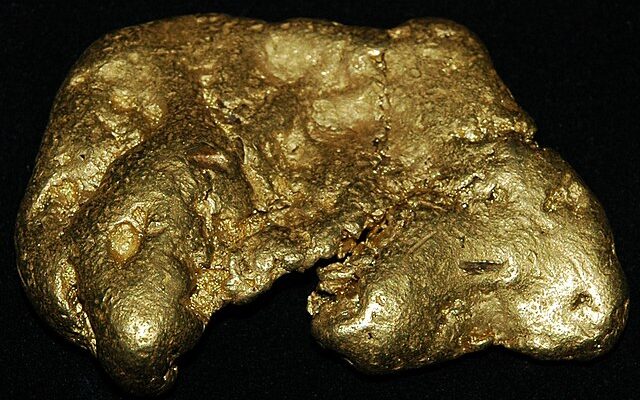 An amateur gold prospector found the nugget of a lifetime. Uncovered in Victoria, Australia in a region called the "Golden Triangle," the rock filled with gold weighed over 10 pounds, six of it being the precious metal. 
The nugget is estimated to be worth $240,000.
CNN reported, "Named the 'Lucky Strike Nugget,' the gold specimen was taken to prospecting shop Lucky Strike Gold toward the end of last year and dropped into the hands of shop owner Darren Kamp, who valued it.

'When it hit my hand, my jaw dropped with it,' Kamp told CNN on Tuesday. 'It was just incredible. Once-in-a-lifetime find.'

Kamp has been in the business of gold prospecting for 43 years and said he has 'never seen a rock of this size with that amount of gold in it.' A lot of the time, people go to the shop with a rock that looks like gold but is not, he added.

The rock was very dirty so the spotter, who does not want to be named, could not see the gold on the outside of it, and he cracked it into two because he thought there would be a gold nugget inside, said Kamp.

Once it was cleaned up, 'you could see the gold just come oozing out of the rock everywhere,' he said.
The prospector "was searching for gold in Victoria's 'Golden Triangle' – an area from Ballarat across to Bendigo and up to St Arnuad, where prospectors have struck gold since the 1800s.
He was combing the area with a Minelab Equinox 800 metal detector worth $1,200 when his budget scanner started to beep.
Gold prices in Australia hit an all-time high of $2,943.80 per ounce on March 23, making it the perfect time to find and sell the precious metal.
Even small nuggets of gold can reach up to $1,000 in the current market as inflation continues to drive up the value of gold," The Daily Mail wrote.
BBC noted, "While discoveries like this are rare, Australia is estimated to have the world's largest gold reserves and many of the world's biggest nuggets were found in Australia."
[Read More: Couple Marries 60 Years After Parents First Blocked Them As Teens]