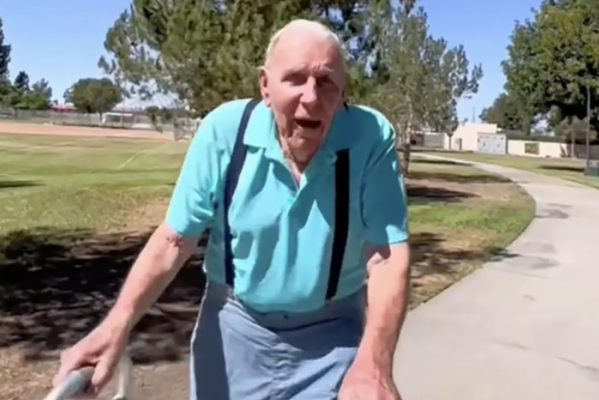 A Tik Tok media star Isaiah Garza recently surprised a 100-year-old veteran with an incredible trip to one of the most enjoyable places on the planet. I hope you have some tissues ready. 
The New York Post quoted: "I took a 100-year-old veteran to Disneyland & we became best friends," Garza captioned the now-viral video, which has over 11.6 million views and 2.3 million likes.

Garza — whose social media bios say "once homeless & now changing lives" — starts the video by approaching the man outside, who is using a walker.

"I'm sorry to bother you, but I've had a really, really rough day and I just wanted to see if you'd be willing to go to Disneyland with me today," Garza says.

"Hey, that's great," the suspenders-wearing gentleman laughs. "You really want to take me?"

"My gosh, I can't believe this," he adds.
Garza coordinated the trip with the man's caregiver to ensure he'd be OK with all the excitement.
As the video comes to an end, Isaiah questions the centenarian about how it feels to be in the Happiest place on Earth.
Local media reported," 'This is one of the best days of my life. I feel like I might be dreaming or something. I thought my life was over. I will remember this day for a long time. You don't know how much I appreciate this… you really don't know,' he replies, choking back tears. 
Garza, with a big social media following, is open and honest about getting paid, brand and sponsorship deals through his videos, but says it comes from a genuine place of love and passion for helping others…after he was homeless for a couple of years living on Skid Row. 
'I think it was the pain I went through every day when I would sleep on concrete, shower in public restrooms for years. I just told myself I was going to use this energy and harness it for good someday. I never knew how I was going to be able to make money someday to help people, but I always told myself that energy I would harness it for good and it ended up working.'"
The full video can be found below: 
What a wonderful act of kindness and joy! 
[Read More: Firefighters Have Fido Bags To Rescue Dogs And They're Incredible!]