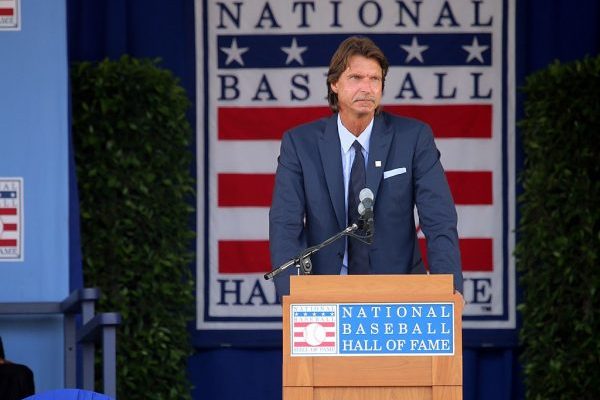 Spring Training has started and summer is around the corner. Few of the all time greats are ever defined what happens at the start of the season, but Randy Johnson almost was. In one of the freakiest events in sports history, one of Randy's pitches hit a bird. 
Now retired, Randy has used that incident to define his post playing career. And he might be better at it than baseball.
Randy had one of the most impressive pitching careers of all time. The tallest player in MLB history when he entered the league, he became known for his overpowering fastball and devastating slider, which propelled him to 303 career victories. The fifth-most ever by a lefty. He retired with 4,875 strikeouts, placing him only behind Nolan Ryan.
The "Big Unit" was also one of five pitchers to pitch no-hitters in both leagues, and was one of 20 pitchers in history to record a win against all 30 MLB teams.
Rand Johnson retired at 46 years old and was a first-ballot Hall of Famer, but did you know his first love has always been photography? 
SB Nation noted, There are few athletes who have lived a better life in their retirement than Randy Johnson. The Hall of Fame pitcher, the Mariners and Diamondbacks legend, walked away from the game in 2010 and discovered a love of photography. He's never looked back.

Now, people who didn't know about Johnson's career change are learning about if for the first time — and discovering how amazing he is, all over again.

In truth, photograph was Johnson's first love — he just happened to be really, really, really good at baseball. He studied photojournalism at USC from 1983-85, and the "about" section of his photography website notes that baseball was his occupation, but photography was his passion.

Don't get it twisted, Johnson obviously loved the game of baseball too, but he acknowledges that the fame of being a pro athlete (and the money, naturally) has afforded him opportunities to get where other photographers might not, and travel to places beyond the means of many.
On the website for his photography company, which hilariously has the logo of an upside-down dead bird, The Big Unit wrote:
 "My career as a Major League baseball pitcher has been well documented, but what is not as well known is my passion for photography, which began when I studied photojournalism at the University of Southern California from 1983-85.
Baseball became my occupation for two decades but my love of photography never left. Following my 2010 retirement, I was able to focus my attention back to this passion."
Thanks to the people I got to meet during my baseball career, I've been fortunate to have unique opportunities in photography. I've gotten to talk to and learn from some of the best photographers in different fields.
My world travels have allowed me to capture various rarities from the beauty of many African safaris, to motorsports, to multiple major music artists.
Along the way my work has been featured in publications such as Rolling Stone, Spin, and Metal Hammer. My concert photography has even found its way into tour programs, posters, books, and websites.
Photography has taken me on an amazing journey, but it's only just beginning. I look forward to visiting places I've never been, shooting things I've never seen, and getting better each and every day."
Johnson has hit the Big Leagues in photography, too. He has worked as an on-the-field photographer at NFL games. But his most significant accomplishment after baseball might be the fact that he was the official photographer of Rush's 2015 tour, where he said he had to "learn to be a 6'10" ninja." 
I guess it's never too late to follow your passion!