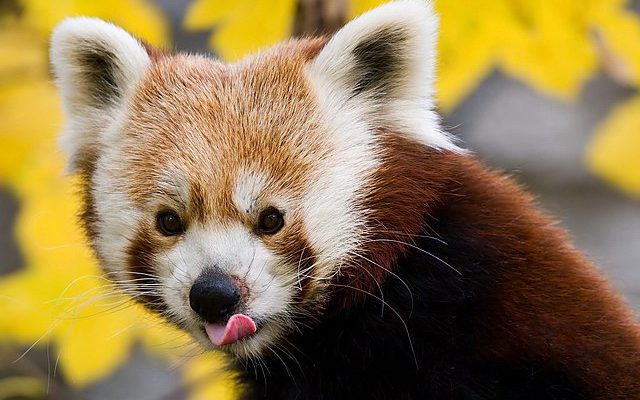 Earlier in the summer a miracle happened at Paradise Wildlife Park in Broxbourne, Hertfordshire, England and we were ready to talk about it. A red panda cub, nicknamed "Little Red", was born in July 2022. Little Red was "being called a 'miracle cub' not only because Red Pandas are an endangered species, but also because the cub's father, Nam Pang, passed away about a month before he was born," a local news affiliate wrote.
"Nam Pang and the mother panda, Tilly, were a part of an international breeding program, and had not become pregnant over the past four years. However, two weeks after Pang's death zookeepers realized Tilly was pregnant."
Look at that cute little guy!
BBC reported Red pandas are classed as endangered due to hunting and habitat loss. They are typically found in mountainous forests in China, India, Nepal, Bhutan and Myanmar.

Aaron Whitnall, operations co-ordinator at the zoo, said Little Red had become "a symbol of hope after the tragic passing of Nam Pang".

"For his memory and legacy to live on is more than we ever expected," he said."
Paradise Wildlife Park gave an initial update on Little Red. They wrote, "Recently, as 'Little Red' has reached just over two months old, it was time for the vet to visit and to check how 'Little Red' is doing. The aim of the visit was to micro chip them and to see whether the sex can be told to hopefully find a name for 'Little Red'. 
Unfortunately, 'Little Red' was too much of a fidget and the vet was unable to tell the sex of them. Their cheeky personality is definitely coming through and this will have to wait until a later date. 'Little Red' was able to have their microchip fitted and this will help identify them and follow them as they grow older.
After the visit, mum Tilly and 'Little Red' were reunited in their cozy nest box and were seen through the CCTV cameras having a cuddle and a little nap. 
In a recent update, Paradise Wildlife Park shared that their exhibit featuring Little Red has already sold out! They say, "once inside the enclosure of one of these cute creatures, with a specially prepared bowl of food, you will have the opportunity to feed them by hand.  Our keeper will tell you about the characteristics of each of our Pandas along with information about the species and the conservation work being done to protect them."
If you didn't buy a ticket, don't worry. You can still get your red panda fix. USA Today shared a video of Little Red and his mom went on an adventure outside of their nest box.
Paradise Wildlife Park will continue to share exciting updates of Tilly and 'Little Red' across their social media channels and website with the hope soon there may be tiny paws in the big outdoors!"
Hopefully, Little Red stays careful and healthy and keeps growing stronger and stronger.