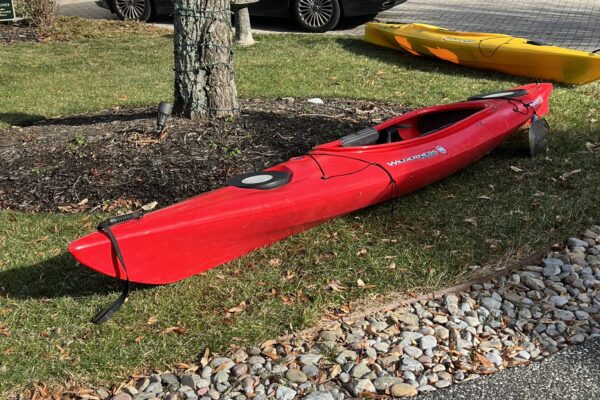 The two military men in Maryland are being heralded for their quick thinking after saving a pilot who crashed his single-engine plane into an icy creek near their home. 
A small plane crashed into a creek in Anne Arundel County this morning.

The pilot was rescued by a Good Samaritan who kayaked to save him. Coming up at 4 on @wjz, you'll hear from the man who rescued the pilot. pic.twitter.com/fdpFHvzIgG

— Jessica Albert (@JessicaAlbertTV) December 26, 2022
"John Gelinne and his family were looking out over Beards Creek in Edgewater, when they saw a plane take a different route around Lee Airport.
The plane continued to bank hard, which caused it to crash in the ice covered water.
John looked at his son, John Jr., and said "let's go." So they took two kayaks and went on the water.
The ice was so thick the paddle was useless so they retrieved a couple of shovels. John Sr. reached the plane first as the pilot was standing in chest deep water," according to WMAR.
Plane Crash Update: The Pilot is being transported to AAMC with non-life threatening injuries. Fire Dept personnel are assisting several kayakers with warming. Great job by all who responded! pic.twitter.com/P3zrck9Oj3

— Anne Arundel County Fire Department (@AACoFD) December 26, 2022
The Maryland State police said, "The pilot and sole occupant is identified as Steve Couchman, 71, of Prince Frederick, Maryland. He was transported by ambulance to Anne Arundel Medical Center where he is receiving medical treatment for injuries sustained in the crash. The plane involved is a Piper Cherokee single engine plane.

Shortly before 10:30 a.m. this morning, Maryland State Police from the Glen Burnie and Annapolis Barracks were dispatched to the report of a plane crash near Lee Airport in Edgewater, Maryland. The preliminary investigation indicates that moments after the pilot took off from Lee Airport, the engine of his plane began sputtering. Witnesses told police they heard the sputter and shortly thereafter, they heard the plane crash into Beards Creek.

Two nearby civilians and an on-duty police officer from the Anne Arundel County Police Department who heard the call, used three kayaks to skim across the iced creek to provide assistance to the pilot. While the plane was sinking, the pilot exited his plane and stood on the wing. Once the kayakers were close enough, the pilot was able to hang on to one of them to stay afloat.

Moments later officers from the Maryland Department of Natural Resources Police responded to the scene by boat. Upon their arrival, an officer cut through the ice and pulled the pilot safely into the boat and transported him to the Annapolis Landing Marina nearby where the pilot was subsequently transported by ambulance to the hospital."
The biggest concern for Couchman was that he'd get hypothermia from standing in the icy waters. 
"We're just very thankful that those two kayakers were there and heroic efforts that they did to make that rescue," Anne Arundel County Fire Department Lt. Jennifer Macallair told CBS. "They probably saved that pilot's life today."
Before Couchman was taken to receive medical treatment after his harrowing ordeal, Gelinne said he wanted to thank him. "You were actually heading for my house and you turned this plane and you didn't hit my house, and for that, I really want to thank you, because I did really want to thank him," he told the pilot.
[Read More: Time Magazine Lists Ten Great Things That Happened in 2022]