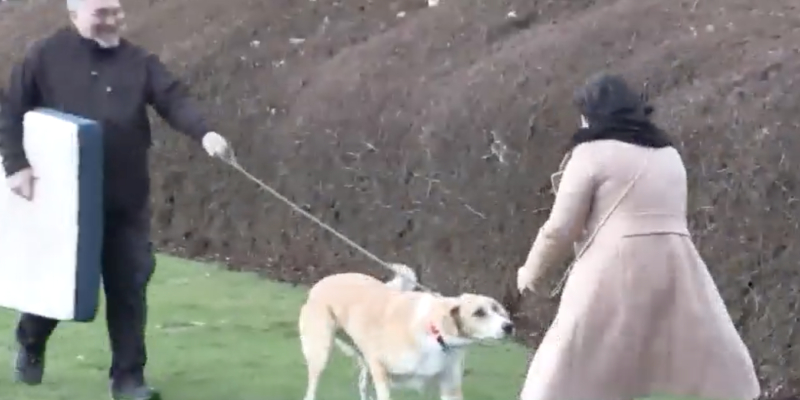 Freshta Siddiqui and her dog Lucky will share a forever bond and in many ways they have saved each other's lives. In 2019, Freshta came across the Anatolian shepherd as it was being tortured by kids in Kabul, Afghanistan. 
Lucky was screaming in pain. She said, "They were being stoned by too many kids in the street and I could not stand it. I went there grabbed Lucky and took him home." 
Freshta expected Lucky to be by her side for a long time. The pup was a new part of her family, but then fate intervened.
CTV News in Vancouver writes, "After the Taliban took over in May of 2021, following the withdrawal of the United States military, Siddiqui, a women's rights activist, quickly became a target.
Siddiqui says she and her mom narrowly escaped an attack that September thanks to her faithful pup.
'Lucky saved us, actually. He barked and let us know that there were Taliban already inside our place,' she said.
Siddiqui says they got away, but she knew at that point she had to get Lucky out of the country.
'I was praying day and night. I couldn't leave him in a country like Afghanistan,' she said." 
Freshta told CBC that she had no choice but to send Lucky, along with her cat, Leo, "on a plane full of pets, chartered by the Society for the Prevention and Cruelty of Animals (SPCA) International, from Kabul to Vancouver in February 2022.
Lucky went onto stay at a number of foster homes, eventually ending up at a temporary home in Portland, Ore., as Siddiqui and her mother endeavored to get to Canada as refugees.
They escaped Afghanistan to Pakistan shortly after sending Lucky and Leo off, where they remained for 10 months until arriving in Vancouver in December. Leo stayed with friends in Vancouver until Siddiqui arrived.
They spent two years apart, but now they've been reunited.
Upon seeing Lucky again Freshta couldn't help but feel hopeful. "I'm filled with this overwhelming sense of joy and gratitude," Siddiqui said as she and her mother waited for Lucky to arrive. 
Welcome to your new home, Lucky. It's time to start your new life in the Americas.