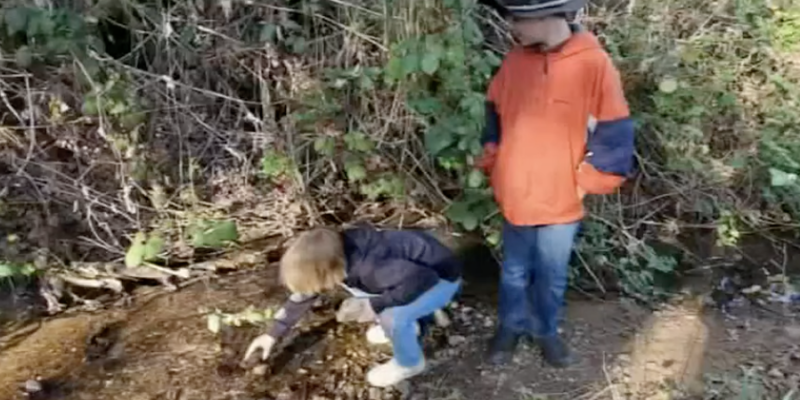 Jeremiah Longbrake loves to visit his grandma's house. Jumping on a trampoline in the backyard one day, the Oregon nine-year-old thought he'd go down and explore a stream that runs through her property. Little did he know that what he'd find in the water would make him the talk of the town. 
Looking down at the water, he noticed a small object — he thought it was a plastic container of some sort — and reached with a stick to try to push it out of the creek.

After retrieving the object, which was dark brown, the size of two fists and featuring distinctive grooves running through the "rock," he brought it inside to his mother, Megan Johnson.

"He brought it up here and I thought it was a piece of petrified wood or something," Johnson said. "Then I got to looking at it more and it just looked odd," Oregon Live reported.

Johnson decided to post it on Facebook — she has an enthusiasm for rocks, and has "rockhounding" friends in her circle — to see if they could help identifying it.

"I figured I'd throw it out there to see if anybody had any ideas," Johnson said. "And a half a day later, 12, 13 people were commenting on there, 'That looks like a tooth.'"
Sure enough, that's exactly what it was. Local KPTV had video of the amazing find.
The Washington Post said that "three days and several phone calls and emails later, her family had an answer: It was a large fragment from the tooth of a mammoth, the gigantic tusked mammal that roamed Earth more than 10,000 years ago.
Patrick O'Grady, an archaeologist at the University of Oregon Museum of Natural and Cultural History, was familiar with what mammoth teeth looked like and confirmed the finding. Upon seeing the photos, he said he knew instantly what it was. Identifying most parts of ancient animal fossils is difficult, but not mammoth teeth, he said. They're quite distinct."
'We were all pretty shocked and excited,' Johnson said. 'We've enjoyed rockhounding in our family for years, but nobody has ever found anything like this.'
The archeologist has invited Jeremiah's entire family to come take a behind-the-scenes tour of the lab, which, his mom says, "we FULLY intend to take him up on," she told reporters from The University of Oregon.
"Answering one simple phone call or email can sure improve our understanding of the natural history of Oregon," O'Grady said. "This story is a great example of the museum's mission to enhance knowledge of Earth's environment and cultures, inspiring stewardship of our collective past, present and future."
"Children thrive when they have the time and opportunity to explore the natural world," he added, "as well as a parent that sees the importance of nurturing their curiosity."