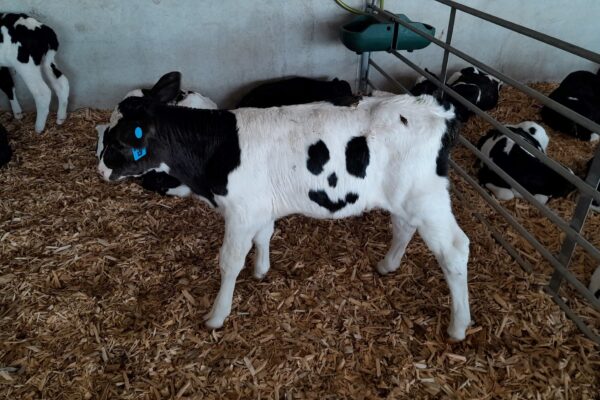 When you own a cattle ranch, the birth of a healthy calf is undoubtedly something worth celebrating, but for Megan and Barry Coster, who breed about 700 calves a year at their stud farm in Australia, one calf especially made them smile. The two ranchers knew they had something special. 
Of the thousands of calves they've seen over their work, the Costers have never seen a cow with a smiley face marking on its side.   
A baby cow in Australia has become a viral sensation for the black and white patterns on its hide — which look uncannily like a smiley face.

Happy the cow has been sold to the organization Farm World for $10,000 AUD ($6,600 USD), with proceeds benefiting a nearby hospital. pic.twitter.com/xzC4ha17jX

— NowThis (@nowthisnews) March 28, 2023
"We've seen some number sevens or love hearts on the head and a few strange markings, but we've never seen anything that resembles a smiley face before," Mrs. Coster told ABC. 
Barry collected the young Holstein — now affectionately known on the ranch as "Happy" — during one of his morning rounds. When he picked up the little guy, nothing at first stood out, but then he saw the calf's other side and immediately sent a picture to Megan. 
"I couldn't believe it — I actually zoomed in at first to make sure that none of our workers had added some extra lines or anything, " Mrs. Coster continued.
"At first, the Costers were going to keep Happy on the farm where he would be a life-long pet but after the news about this unique calf got out, the couple was bombarded by media from around the world. That's when they decided Happy should go on to do great things," according to reports.
"So they started looking for a buyer for the calf but the Costers were not looking to make a profit from the sale. The proceeds were donated to the West Gippsland Hospital that is being redeveloped and upgraded.
Barry Costa said that they wanted the money from the sale to go to the hospital. He told ABC: 'all our children were born there and people we care about have been patients.'"
RFD TV writes that "Happy was bought by Lardner Park for a donation of $10,000 dollars to the local West Gippsland Hospital, according to KTVU.
Lardner is an event space that holds events from music festivals to farm events and rodeos. Happy's new home will be 300-acres and will act as the park's mascot.
The CEO of the park told FOX TV, "He is feeding really well and seems well settled into his pen at Lardner Park. With approximately 40,000 to 50,000 patrons coming through the gates to see 'Happy' this weekend, we know Happy will put a smile on everybody's face."
[Read More: Story of the Missing Wedding Dress]