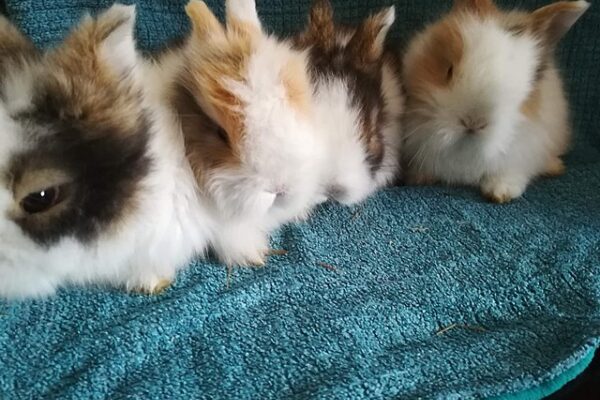 The people of Wilton Manors, Florida, have been invaded. Soon, some of the residents say, if no action is taken, they will be overrun and their community will never be the same. 
No, it's not an invading army, It's not alligators or insects or an invasive plant strangling the life out of its surroundings. The group that has begun pestering this small retirement town is made up of bunnies. 
And they're adorable.
"Two years after a resident let loose Lionshead rabbits from their backyard, according to local lore, the number of rabbits now outnumber the 81 homes in the Jenada Isle neighborhood.
The furry invasion has divided the neighborhood's residents. Some have allegedly threatened to shoot the animals or feed them to their snakes. Some want to let the bunnies roam free. Others, concerned about the rabbits' safety, are racing to raise money to save them," NPR reports.
Lionshead rabbits, also known as Lionhead rabbits, are a recognized breed of domestic rabbits that are known for their distinctive and adorable appearance. They have a distinctive mane of longer fur around their head, resembling a lion's mane, which is the characteristic that gives them their name. Lionhead rabbits are a relatively new breed and are popular among rabbit enthusiasts and pet owners for their unique appearance and friendly demeanor.
"It would be like seeing poodles running loose in a neighborhood," said Ashley Berke, who helped with the rescue and leads Space Coast Bunnies. "They're in danger of disease. It's just so infuriating."
East Coast Rabbit Rescue, a nonprofit organization, has taken the lead to rescue and give the bunnies a new home. So far the group has only managed to rescue 19 rabbits. Three of which were very pregnant.
The volunteer outfit has begun rounding up the rabbits after partnering with city police to complete the mission.
According to ECRR President Monica Mitchell, a major obstacle continues to be residents.
"Our hope was to rescue up to 45 — that was our goal yesterday," she told NPR. "But, unfortunately, we encountered lots of issues there … because the residents were so hostile. Some residents didn't want us to take the bunnies."
And so the epic battle will continue.
In an emailed statement to the New York Times, Wilton Manors Chief of Police Gary Blocker said, "The safety of this rabbit population is of utmost importance to the city."
"Any decision to involve ourselves will be certain to see these rabbits placed into the hands of people with a passion to provide the necessary care and love for these rabbits," he added.