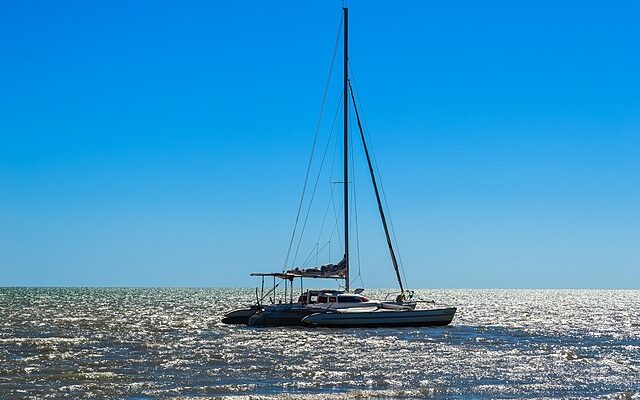 An Australian sailor survived being stranded for several months in the Pacific Ocean by eating raw fish, drinking rainwater, and having dog Bella with him. In April, Tim Shaddock, 51, thought he could sail his small catamaran from the west coast of Mexico to French Polynesia, a trip of over 3000 miles. 
He didn't make it too far, especially after he ran into trouble. 
A few weeks after Tim Shaddock, 51, and his dog Bella set sail from La Paz, Mexico towards French Polynesia, a storm struck damaging their vessel and electronics, Shaddock told 9News. They were rescued after a helicopter accompanying a Mexico-bound tuna trawler spotted their boat over the weekend, according to USA Today.

"I have been through a very difficult ordeal at sea," Shaddock told 9News. "I'm just needing rest and good food because I've been alone at sea a long time."

"I have not had food, enough food, for a long time," added Shaddock, sharing that he and his dog ate only raw fish and drank rainwater to survive. He added that he had fishing and other survival gear with him, which helped.

Shaddock told the media outlet that he avoided sunburn by sheltering under his boat's canopy.
Professor Mike Tipton, an ocean survival expert, says luck was only a part of the pair's incredible story. "It's a combination of luck and skill," he told 9 News
"And also knowing for example, as Tim did, that during the heat of the day you need to protect yourself because the last thing you want when you're in danger of becoming dehydrated is to be sweating," he continued.
According to Tipton, securing a fresh supply of water was crucial for Shaddock's survival, along with the climate, location, and time of the year.
"These voyages of any great length tend to occur in the Pacific," he said.
"If you look back through history, they tend to occur in warm environments because if it was a cold environment you don't survive long enough."
Tipton also compared to finding Shaddock's boat to seearching for a needle in a haystack. "People need to appreciate how small the boat is and how vast the Pacific is. The chances of someone being found are pretty slim," he said.
During his press conference after reaching dry land, Tim said that he was grateful to have Bella with him during the ordeal. "She's a lot braver than I am, that's for sure." 
'Bella found me'

Rescued sailor Tim Shaddock says his dog is a "lot braver" than he is and he is grateful she is alive.https://t.co/PAiZ4D1jU3

📺 Sky 501, Virgin 602, Freeview 233 and YouTube pic.twitter.com/i9bSPjkjCq

— Sky News (@SkyNews) July 18, 2023
{Read More: Radical Theory About Planet Is Being Proven True}