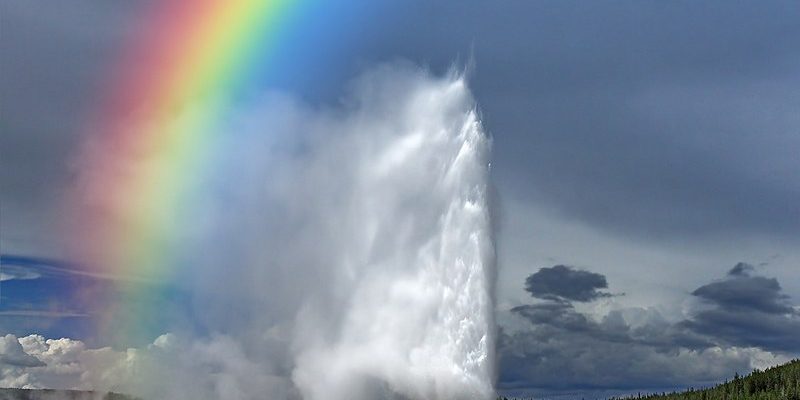 Yellowstone National Park is celebrating its 150th birthday this year. The Christian Science Monitor caught up with park veteran Rich Jehle and he told the newspaper that he sees a great future ahead for Yellowstone. On an October morning, the veteran interpretive ranger for the West District gave his thoughts on his life at one of America's greatest national parks. 
"I think the favorite moments a lot of times are the simplest ones," he told The Monitor. "It's when you get that 'aha' moment from a visitor" – about showing respect for bears or bison, for example. 
When the newspaper asked how his work at Yellowstone has transformed his life, Ranger Jehle said that he feels lucky to have spent his career in such a "spectacular" place, but noted that the park belongs to everyone, especially those yet born: "It belongs to the future, to my kids, and their kids, and the rest of the American public, and the rest of the world.'"
The Monitor had a great conversation with the veteran ranger: 
What does a typical day look like for you – if there is such a thing as typical? 

The thing I like about my job is it's never dull. My duties have changed a lot over the years. When I first started working here, I was doing a lot of the front line, interacting with visitors a lot, working the park entrance stations. … Over time I got into the division of interpretation. … Right now, I think my main goal is supervising a staff and sort of helping younger folks that are working for me learn about the park, learn about how to share the park's resources and values with the visitors, and providing the best visitor service we can so people learn to love their national parks – and hopefully get inspired to preserve them and pass them on to the next generation. 

Have you had a favorite moment with a visitor over your three decades here?

I think the favorite moments a lot of times are the simplest ones. It's when you get that "aha" moment from a visitor, when you are talking to them about Yellowstone, and maybe it's how Old Faithful erupts – just something as simple as that. How does it work? It's not a clock. It's not something that we schedule. It's a natural feature that is variable. We are able to predict how it erupts one eruption at a time. … Or when you talk to visitors about: Why are grizzly bears important? Why can't I go get too close to a bison? When the visitors make that connection that this is a wild animal living in a wild place, and that we need to respect their space in order to be safe and allow them to survive. … The mission of this agency is to preserve Yellowstone, preserve the national parks, "unimpaired" for future generations. That's the language from the Organic Act, from when the National Park Service was established in 1916. I really take that to heart.
In June massive flooding hit the park after unusual amounts of rainfall created rock and mudslides. Jehle told CBC, "It was a flood event that nobody has ever seen in our lifetime certainly. It's been called a 500 year event."
"I'd never seen anything like this. Where it rained that hard for that long without letting up." A reminder, he told a reporter that Mother Nature holds awesome power for destruction just as much as it holds awesome power to create beauty. 
CBC explained, "The torrential downpour forced the evacuation of more than 10,000 tourists, employees and residents near the park. Remarkably, no one was reported injured or killed.
"But Jehle said the 'outpouring of love and support' from across North America and around the world in the aftermath has been a powerful thing."
The full interview between the Christian Science Monitor and the Ranger Jehle can be found here. 
Created by Congress on March 1, 1872, Yellowstone was the first national park in the United States and is typically considered to be the world's first national park. The park is known for its wildlife and geothermal features, the most famous being Old Faithful, one of its most popular attractions. It is considered one of the most beautiful places in America.