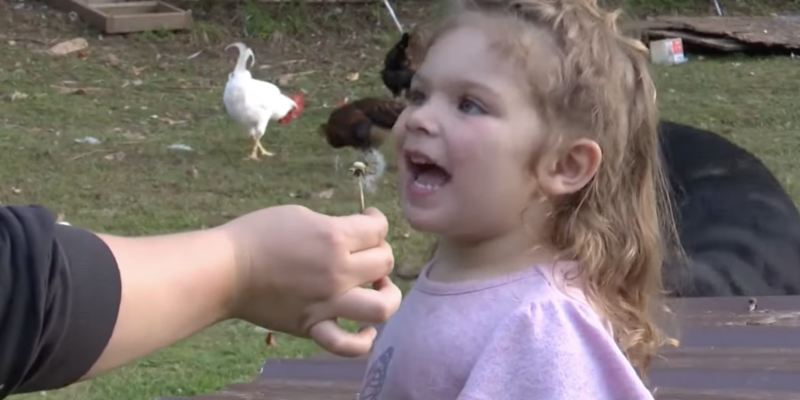 In the small town of Faithorn, Michigan, Brooke Chase felt an instinct to check in on her daughter, Thea, as she was playing in the backyard. That's when she realized her little girl was missing. 
Thea had been told by her uncle, who was outside with her, to go in the house and put some shoes on. The little two-year-old, as they often do, decided to do something else: she went on a three mile walk in the woods. 
Once Chase and her brother-in-law "realized Thea wasn't in the house, she said she began to yell. They searched for about 20 minutes before calling Chase's husband and police.
'When we get a call like that, everything else stops,'" Michigan State Police Lt. Mark Giannunzio told CNN.
A search for the child began involving drones and police dogs while also utilizing local police and citizens to comb through the wooded areas around the home. About four hours after the search began, the toddler was discovered in the woods, roughly 3 miles away from her home.

"She laid down and used one of the dogs as a pillow, and the other dog laid right next to her and kept her safe," Lt. Mark Giannunzio told MLive. "It's a really remarkable story."

The dogs had followed the girl out into the woods and appeared to have stayed with her for the entire journey.

The trio was discovered by a citizen who was using an ATV to navigate the woods. The girl was examined by medical personnel and was reportedly in good health.
The search showed not only how strong the community is, to come together to find the missing girl, but how loyal the family's dogs are. 
"Cooperation and coordination by various government and volunteer agencies in conjunction with community efforts contributed to the successful outcome," the statement continued. "The Michigan State Police, Iron Mountain Post, would like to thank everyone involved with locating this young girl."
This isn't the first time that a child has gotten lost in the woods up in the northern part of Michigan. "Back in May, People noted, "an 8-year-old Wisconsin boy went missing for two days during a family camping trip in Michigan before authorities located him in Porcupine Mountains Wilderness State Park.
On Monday, May 8, Michigan State Police's Eighth District wrote on Twitter (now known as X) that authorities had discovered second-grader Nante Niemi underneath a log where he had sought warmth and shelter.
According to an Michigan State Police (MSP) news release, Nante was believed to have been gathering firewood on Saturday, May 6, when he got lost in the woods."
He was brought home safe and sound.