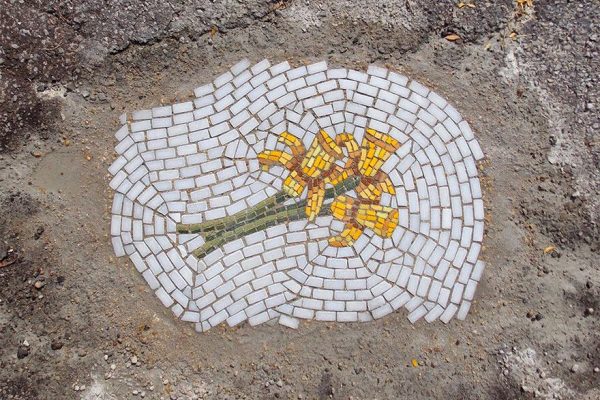 A few years ago, "pothole vigilantes" made the news in Oakland, California because they were picking up the slack when their city wouldn't fix potholes in a timely manner. Called the "Batman and Robin of Road Repair" by one magazine, two anonymous men took to the streets and began filling potholes themselves.
Local news reported "the so-called Pothole Vigilantes duo about what they're doing late at night out on Oakland streets, and they'll say: community service.
'We love the city, we hope they fill (the potholes) faster. And if they are not going to do it, we will do it ourselves,' says one of the men.
'We have lived in a few other places, and none of them have been as bad in terms of road repair as Oakland,' says the other."
Now an artist in Chicago is upping the ante. My Modern Met offered more details and caught up with the artist himself. 
One artist is taking it upon himself to beautify cracks and holes in the pavement with colorful mosaic art. Based in Chicago, Jim Bachor transforms unsightly potholes into beautiful renditions of famous paintings.
Aptly named Master Pieces, this series of four features depictions of well-known artworks kept at the Art Institute of Chicago. "It's all about juxtaposition," Bachor explains as the inspiration for Master Pieces to My Modern Met. "Occasionally when starting a new pothole art series I like to contrast high-brow subject matter with lowbrow pothole art (such as my series of high-end brand patterns like Burberry and Gucci). The Master Pieces series does the same thing—taking details of some very famous, iconic pieces from the collection of the Art Institute of Chicago and setting them in the dirty street."
Some of the most recognizable works from this project include portrayals of Edward Hopper's Nighthawks, a snippet from Grant Wood's American Gothic, and a portion of Vincent van Gogh's The Bedroom. Bachor created each work in this series, including a text-based mosaic that read "Art Institute of Chicago Should Fund This Art," with pieces of Italian glass.
"If these works were stand-alone pieces of fine art, I'd probably sell them for around $3,500 each," he says. For this reason, Bachor decided to limit Master Pieces to four finished works, but the efforts of his creative process have surely left their mark on the city. Now, passers-by can stumble across something unexpectedly beautiful on their way to work or home.
On his website, Bachor writes, "Volunteering to work on an archaeological dig in Pompeii helped merge these two interests into my art. In the ancient world, mosaics were used to capture images of everyday life. These colorful pieces of stone or glass set in mortar were the photographs of empires long past. Marble and glass do not fade. Mortar is mortar. An ancient mosaic looks exactly as intended by the artist who produced it over two millennia ago. What else can claim that kind of staying power? I find this idea simply amazing.
 Using the same materials, tools and methods of the
archaic craftsmen, I create mosaics that speak of
modern things in an ancient voice. My work locks into mortar unexpected concepts drawn from the present.
By harnessing and exploiting the limitations of this indestructible technique, my work surprises the viewer while challenging long-held notions of what a mosaic should be. Like low-tech pixels, hundreds if not thousands of tiny, hand-cut pieces of Italian glass and marble comprise my work.
 This work is my mark."
You can support him and view his work at this link.
[Read More: Nature Is Returning To One Of Finland's Unknown 'Wellness Paradises']