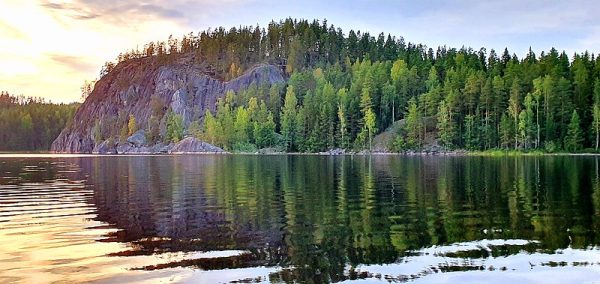 Something amazing is happening at Finland's Lake Saimaa. Dubbed a secret wellness paradise because of its stunning views, a local species of seal has been making a comeback.
The unique Lake Saimaa ringed seals have been having a hard time for decades, but with rising temperatures, they have faced a major challenge because of less snow to build their nests.
Conservationists have been trying to help. One Finnish newspaper noted, "Due to human activity, the seal population decreased heavily during the 20th century, but persistent conservation measures have protected over 400 seals currently living in Lake Saimaa. However, the species is still threatened by extinction."
Recently, though, conservationists got some great news. 
YLE reports, "Conservation work aimed at protecting and replenishing the population of Saimaa ringed seals are proving successful so far, according to a report by Finland's network of regional economic development ELY-centres.

The research found that 90 new seal pups — a new record — were born in 2021 and this figure appears to have been exceeded this year, with an estimated 92 pups born.

Between 2012 and 2017, an average of seven ringed seals died in fishing nets every year, while only two similar deaths have been reported so far this year.

The report added that the Saimaa ringed seal population increased by an average of 5.6 percent every year between 2015 and 2020.
Last year the Saimma ringed seals became internet stars when WWF Finland launched a popular webcam(siirryt toiseen palveluun) featuring the little guys for a sixth year in a row. YLE wrote, "Called "Norppalive" in Finnish, the live streams shows rocks favoured by the rare seals as places to rest and scrape off their winter fur."
Over the past five years, the stream has gotten more 10 million views! Now that there are more pups around, maybe we'll soon be getting an even better show. 
With incredible views of the water, hiking trails and lakefront saunas, Forbes dubbed Lake Saimma as a "secret wellness paradise."
The magazine said, "Ask a local in Finland where they take summer vacation, and chances are good they'll mention Lake Saimaa. The forests surrounding the country's largest lake are dotted with cozy holiday cottages handed down through generations, giving families the chance to forage for mushrooms and soak up the stunning scenery summer after summer.
But more than a beloved spot for locals, Lake Saimaa is also a worthwhile destination for wellness travelers worldwide who want their relaxing getaways to come with a big dose of culture. This is a place where you can learn the calming culinary art of making hand-pies in a local's home, get pampered in one of the country's most eco-friendly spas, sip wine with a wilderness sommelier in the middle of the woods, and wind down with sauna sessions followed by refreshing dips in the lake every night of your trip. Plus, the dreamy nature will nourish every part of your being." 
[A Man's Horse Returns Home After EIGHT YEARS Spent With Wild Mustangs]