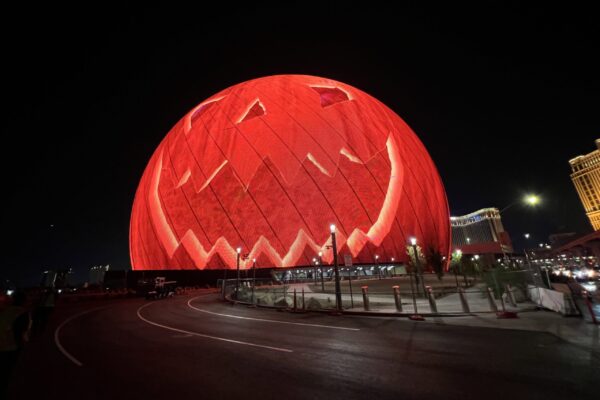 Although the newest attraction on the Las Vegas Strip, The Sphere, has not yet opened to the public, the building has taken the breath away from millions all over the world. 
The Sphere, a 366-foot-tall orb constructed in the heart of Las Vegas, turned on for the first time to show off its incredible "exosphere," a shell made up of 1.2 million LEDs creating a 580,000-square-foot panel.
Earth's largest sphere besides the planet itself doesn't officially debut for a few more months but residents and tourists got a sneak peek to the attraction on Tuesday. As part of a July Fourth special event, the giant ball displayed a multitude of displays including the American flag, an eyeball, a basketball and even Earth itself. The Jack-o-lantern image for Halloween and a snow globe for Christmas shows how much fun the LED orb will bring to the city, writes USA Today.

The eye-catching venue will host live music, film and sporting events including boxing and mixed martial arts.

Concert goers will be able to see their artists perform live alongside the appeal of being surrounded by a 16K LED screen displaying augmented animations and also serve as a 360 JumboTron showing close-ups of performers.
The Verge notes that "the LED pucks on this massive screen are spaced eight inches apart and contain 48 individual LED diodes, each of which can display 256 million different colors. The Sphere hasn't officially opened yet, but it will continue to light up on the outside, with U2 kicking things off with the very first show in the venue this September.
Even if we can't get inside the venue just yet, it's still pretty cool to see the displays on the outside — and just how strangely futuristic it looks against the Vegas skyline."
Some of the videos are truly stunning: 
Freaking Amazing! MSG Sphere the World's Largest LED screen in Las Vegas lights up for the 1st time on 4th of July. There are about half an hour of different visuals. Looks epic in person! 🤯🌎 pic.twitter.com/dLzkhg6ju9

— Attractions 360° (@SoCal360) July 5, 2023